We talk about storytelling a lot here at the lorries. It's a topic that's very dear to our hearts and one that we're constantly preaching the benefits of to our clients, prospects and basically anyone else who will listen.
Of course, storytelling isn't anything new to the b2b PR and marketing world. In fact, I'm sure you've heard the spiel before: how important it is to tell engaging stories that cut through the noise and inspire action among target audiences, instead of spending all your time talking about products and services.
But, although the idea of b2b storytelling is well established, doing it well is something else entirely. It takes time, effort and an understanding of what will resonate with the people you're trying to reach.
And just like everything else, some brands do this better than others. One vertical in particular that brilliantly demonstrates the power of storytelling is the alcoholic drinks industry. This is largely because of the various restrictions and sensitivities around how alcohol can be marketed, requiring brands to be especially creative to attract and retain customers. Telling a story around a product offers a way to keep the product in the picture without glorifying the consumption of alcohol.
So, after being inspired by a recent example, I thought I'd pick out a few other drinks brands that are leading the way when it comes to building meaningful connections with consumers.
The spirit of a legend
I don't know about you, but I found myself spending quite a lot of time drinking during the recent lockdown. Apparently it's a habit that I shared with a lot of my lorries colleagues (I'm still waiting for that bar on wheels to appear). I blame my family for being a bad influence.
Whisky specifically has taken on a growing role in my life – which is actually what inspired this blog. One day in the height of lockdown, my Mum came home with a bottle of whisky from a brand that none of us had ever heard of. Why did she get it? For one very simple reason: she "liked the story."
The brand in question was Shackleton – named after legendary explorer Sir Ernest Shackleton, who in 1907 led an expedition to the Antarctic on a quest to become the first man to reach the South Pole. While they didn't manage to reach the Pole, Sir Ernest and his team journeyed further south than anyone ever had before turning back on January 9th 1909 in the face of increasingly bitter winds and an exhausted crew.
Shackleton adopted this story because Sir Ernest personally ordered 25 cases of whisky in an attempt to bolster team spirit during the Antarctic expedition, three cases of which were discovered and excavated one hundred years later. It's a narrative that runs all the way through the brand's personality and messaging. From its tagline "a whisky for those who are born adventurous," to the nautical theme and compass-based packaging, it's clear that the brand was inspired by exploration and adventure.
This gives the brand a unique and extremely powerful identity that makes it stand out from the crowd, while the story of Sir Ernest Shackleton's heroic escapades resonates with people on a deeper, emotional level. It's something people will remember and is more likely to inspire customers to make a purchase.
Stand out with storytelling
Shackleton isn't the only alcohol brand that uses storytelling to great effect. The sector is full of brands which rely on the power of story to make their mark in a hugely competitive space. Here are two that have stood out to me.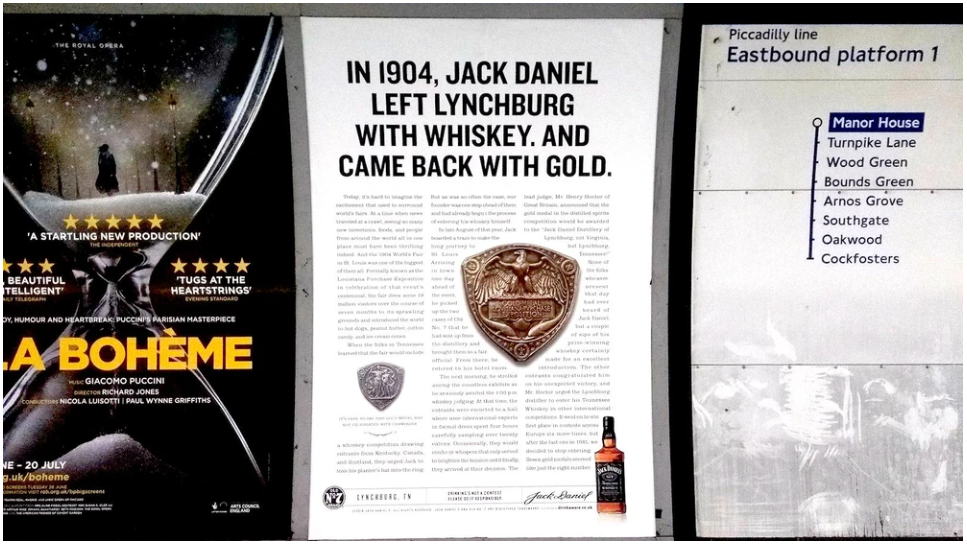 The life of Jack
Anyone who has travelled on the tube over the last few years will have come across the Jack Daniel's "Postcards from Lynchburg" ads at some point. To refresh your memory, they typically consist of a black and white picture accompanied by an anecdote from the real life of Mr. Jack Daniel himself.
The stories talk about Jack's early life learning the art of whisky making in the late 1800s, the founding and growth of the first Jack Daniel's distillery, the journey through prohibition and the brand's coming of age in the 1960s. They also offer insights into the techniques and innovations that are still used to this day, such as the 'charcoal mellowing' process that gives the whisky its distinctive flavour.
The ads are engaging and extremely well-written, both of which help consumers connect with the brand even if they're not whisky drinkers. As with Shackleton, the story and life of Mr. Jack Daniel weaves its way through every aspect of the brand's identity, adding a huge amount of humanity and authenticity to one of the world's most well-known alcoholic drinks.
The Duppy effect
Moving away from whisky, one brand that has whole-heartedly embraced the personality aspect of storytelling is UK-based Caribbean rum brand The Duppy Share. The brand's identity is based on mythical Caribbean creatures known as Duppies, which are known to have a special love of rum.
Legend has it that the duppy spirits swoop between the Jamaican islands stealing the best share of the rum as it ages in barrels. They are believed to be playful, mischievous creatures, both of which are key characteristics of The Duppy Share identity. Its label depicts a dancing duppy enjoying the rum, instantly bringing the story and the brand's character to life.
This is exactly the type of storytelling that delights customers into making a purchase. It's fun, unique and taps into positive emotions – in turn helping to foster a level of loyalty that's extremely difficult to achieve.
What does this mean for b2b?
These three examples highlight the power that storytelling can have on consumers, but it doesn't just apply to b2c brands. B2b storytelling can also be extremely effective in helping brands stand out in their market, which is something that many companies still overlook.
Compelling stories help build trust and allow brands to connect with customers on a more emotional level. This gives them a reason to choose your brand over one of your competitors and will get them talking about you in a positive way.
The key is that storytelling shouldn't just apply to specific products or services; it should be weaved through the entire business in order to inject some character, personality and humanity. If done well and in an authentic way, this can be a particularly effective element of b2b PR and marketing campaigns. For example, our client Bynder – a leader in digital file management for brand managers, marketers and creatives – provides a perfect example of a brand that has embraced the art of b2b storytelling:
Bynder's story begins at a kitchen table where three entrepreneurial spirits were sharing ideas over Dutch cuisine. Influenced by their customers' needs, Chris, Roland and Stefan were about to create something big.
This makes the company much more personable by giving it a human face, as well as providing insight into its values and the challenges that inspired it – supplemented by succinct, powerful and engaging language to help make the story stick.
The most successful b2b brands now employ storytelling techniques to differentiate themselves and foster positive feelings among potential customers. But remember, b2b storytelling isn't just about telling an interesting story. While b2b customers make buying decisions with a business mindset, they're still people. The key is therefore to tell your story in a way that appeals to customers' emotions and builds a deeper, more human connection. That's what will help drive growth in an increasingly competitive b2b landscape.
Here are a few other tips to help you kickstart your b2b storytelling journey:
Embrace your brand's history: As all the examples in this blog demonstrate, heritage plays a big part in effective storytelling. All brands have a story of how they started, or past struggles they have faced, which can be extremely valuable in terms of generating empathy and interest among customers.
Find your USP: There's no point telling a story unless it's unique, or has some kind of distinctive element to it. Figure out what this is and avoid typical archetypes to be truly engaging.
Be specific: The more general you are, the less impact your brand story will have. By staying away from clichés and being as specific and detailed as possible, your target audiences will be more likely to trust you.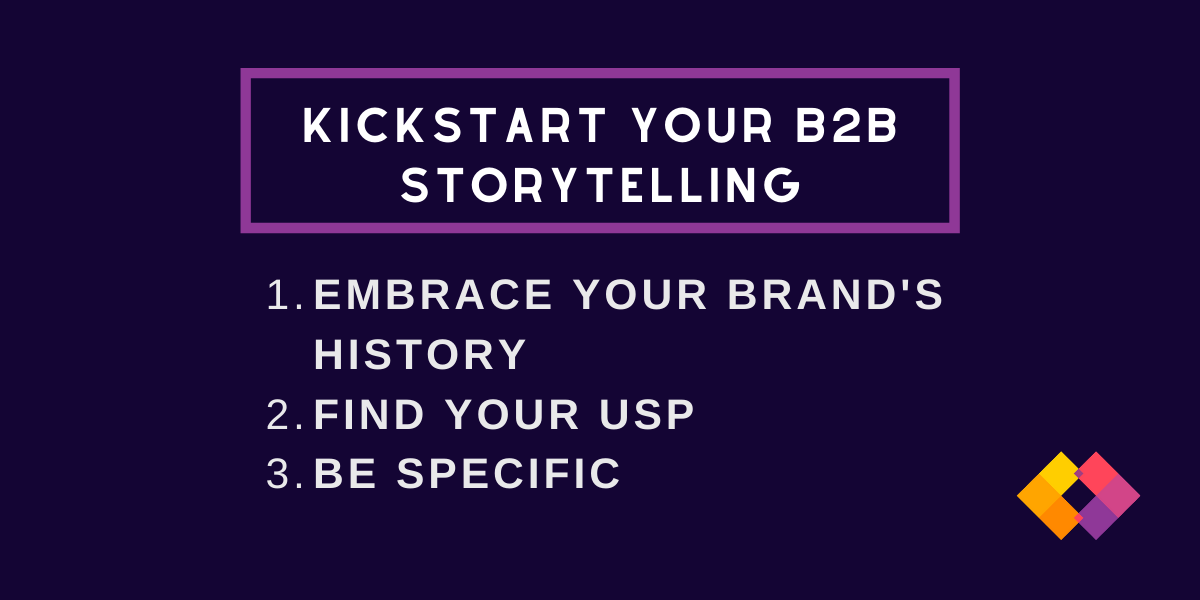 Do you need help crafting your brand's story? Get in touch at hello@rlyl.com to find out how we can help.