Many companies from the US and EMEA are looking to capitalise on the growth of the emerging African market by looking at PR in South Africa. However, brands attempting to break into the region have a number of questions they need resolved.  Do I need a spokesperson on the ground? Are journalists pitched in English, or in the native tongue? How do I account for the vast differences between countries in the region?
So, we spoke to Ronelle Bester, founder of South Africa-based Red Ribbon Communications, about how best to tackle the idiosyncrasies of the Southern African market. Ronelle's agency is part of our international partner network, Convoy, and provides PR services across Southern Africa.
What are the common misconceptions around doing public relations in the Southern African market?
Many brands see Africa as a single country, rather than a collection of independent and vastly different nations. The range of cultures and languages – not to mention the varying degrees of technical maturity across the region – means a blanket approach to PR isn't at all feasible.

Take Nigeria and Kenya for instance. In Nigeria, you have to pay for coverage, as well as for journalists to travel to and attend briefings, which makes everything quite expensive. In Kenya, the media landscape is more mature, and the internet connectivity is much better, which means a greater focus on blogs and online content. In a region as diverse as ours, PR strategy has to be focused and regional.
What are the key challenges for businesses trying to do PR in South Africa and the Southern African market?
Brands new to the region assume that online content is everything, but that's really not the case in Southern Africa. The internet connection is generally shaky, and 3G infrastructure only exists in urban areas. Data in Africa is also extremely expensive, and the drive to keep data usage as low as possible means multimedia isn't such a big thing yet, especially seeing as the modest public transport infrastructure means people spend a lot of time travelling. They simply can't afford to spend their journeys scrolling through news feeds. This all means that reading the news in print is much more common in Southern Africa than in the US or EMEA.

The number of different languages spoken across Southern Africa can also pose a challenge – there are eleven official languages in South Africa alone! Though most Africans speak relatively good English, it's not their first language. Another reason newspapers are still in high demand is that many are written in local languages, and reading the news in your mother tongue is an attractive proposition.

Technical expertise also varies a lot across the region. An article for a South African audience couldn't be recycled for use in other neighbouring countries, for example. It would have to be simplified, and any technical concepts explained in greater detail.
When pitching a journalist, is it important to pitch in the local dialect?
Actually, no. The business language across Africa in general is English, and all b2b tech news is written in English, so we pitch journalists in English.
Does a company need a local public relations spokesperson?
It's often the case that international brands think they'll have it easy when it comes to arranging briefings and securing interest in their work. In reality, the local connection is really important – it's vital to show that you're serious about the territory.

One of the biggest issues is unemployment, with 69% of South Africa's youth unemployed. If a client employs a local person, it carries a lot of worth, because it shows the business is investing in the country. Demonstrating the ability to generate jobs is a good way to bolster a business's reputation with local media.

Without a local spokesperson, you lack the vital knowledge of the local industry, and the only thing that interests journalists is stories with a local relevance. This is particularly true where broadcast is concerned. Publications based in South Africa, for example, are generally not interested in Skype interviews – they want their interviewees to be physically in the studio. This shift towards a local focus is relatively recent.
Can you still use public relations to build a customer pipeline, even if you don't currently have customers in the region?
Building a customer pipeline without a local presence is possible, but can be tough. We would recommend conducting a survey to get hold of some region-specific data, as well as flying out to South Africa regularly to meet with journalists to build those personal relationships and show your commitment to this region. Or, consider working with a local analyst firm.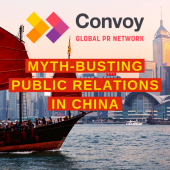 Suggested Post
Entering into the Asia market takes time, patience, experience and detailed planning. Public relations in China and...
Read More
What type of content and social media platforms are typically used by b2b audiences in your region?
There's a strong focus on thought leadership in Southern Africa's b2b tech press. Blatantly pushing products is not looked upon favourably, so you have to hook PR onto a hot topic, and that often means a thought leadership driven strategy.

In terms of social platforms, LinkedIn is by far the largest b2b medium in our region. Twitter is still used, but on a much smaller scale – I would say it's a case of 90% LinkedIn, 10% Twitter.

There has also been a 50% growth in the popularity of podcasts in South Africa, due in part to improvements in internet connectivity. Podcasting is a real growth area, and will only get larger as data costs go down and fibre is installed. They're not all that big with b2b audiences at the moment, but it's looking like that will soon change.
What services or skills should you look for in a PR agency in your region, and why is it important to use a local PR partner?
Local knowledge, as mentioned, is a vital trait to look for in a PR agency in Southern Africa. Beyond that, digital expertise is also growing in importance. It's no longer about traditional media relations in our region – media relations must be omnichannel for it to have real impact.
---
To find out more about PR in South Africa or our global PR network, drop us a line at hello@rlyl.com or visit the Convoy page.