It's that time of year again where celebrities get dressed to the nines in designer garb, reporters flock to the red carpet, and everyone at home waits to watch it all unfold on screen to see who will take home a win. It's awards season. And, in the spirit of the season, I thought what better time to talk about awards programs for b2b technology companies and public relations campaigns.
In this blog, I'll discuss the Do's and Don'ts of writing an award entry, what judges look for from submissions, and when to pass on an awards nomination. I'll also include a few quotes from judges themselves about what they look for, so take note!
Who doesn't love to win? Whether it's an industry award; being recognized for products, solutions, or a successful PR campaign just feels good. Award wins can validate credibility within the industry among your clients, customers and peers, and can also translate into new business.
To enter or not to enter. That is the question
Now, just because there's an awards program accepting entries doesn't mean your company should enter. You could enter every award imaginable – and maybe even win a few – but that doesn't mean it would be worth the time and effort. If you're in search of awards, take a look at the ones your competitors have won. That's a great way to start your research. Also, some awards have costs to them, which could also be a deciding factor.
Before you decide on what awards to enter, be sure to read the rules and eligibility requirements. You may not even qualify, and if you've already started your entry, think of all that time that was wasted!
Working with agencies like us often provides an objective view. If a client wants to enter a product for an award, but it just doesn't quite fit the bill, we tell them. Sure, you may meet the requirements and are technically eligible, but the audience the awards are tailored to don't match. Even if you win, it really won't mean THAT much. And perhaps there's another award opportunity that would be a better fit? Your CEO might not be happy you've turned down the idea of possibly winning some new bling to tout on your website. But they'll be happier in the long run and appreciate the guidance.
You've decided to move forward with an award entry. Now what?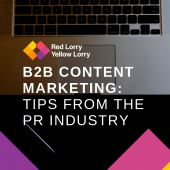 Suggested Post
Here you'll find insider tips from PRs and marketers about b2b content marketing and strategy. It will include...
Read More
Award entry to winning entry
Know your audience – Be sure to tailor your submission to the correct audience. Is the awards program more technical or are they more interested in use cases? And, if you can find out who your judges are, even better!
Less is more – When it comes to product awards, make sure you get to the point and explain what the product or solution does. Judges don't want to read through paragraphs before finding out what you're submitting. The award entry should only take the judge a few minutes to read. We find pulling together a summary of your submission at the top including key results often works. Judges will be looking through lots of entries so it's good to make it easy for them
Who cares? Keep in mind the 'why' when submitting an entry. Why would a company, user, facility, etc., want this product/solution? How can it help them? Why is this person the best CEO or product designer? What have they done to deserve that title? Think real world business impact. For example, instead of providing a laundry list of product features, how has your product or service made a difference to your industry or solved an industry issue? And then back it up with evidence. Which leads me to my next tip…
Evidence is necessary! Even if an award entry is about a new product/solution, you still should be able to include evidence of how the product/solution has helped a customer, improved a workflow, etc. You're not going to win an award for what a product might show the judges what it has done! That includes confidential information like sales figures, net promoter scores, or customer reviews. Remember that this data can be flagged as confidential to the award organizers, if necessary.
Visuals are a must – Even if they aren't mandatory, video and imagery go a long way. It's not always easy for judges to comprehend what your product/solution does without a demo. And for non-product awards, like a Best Places to Work, showing off a team photo that demonstrates the culture, or the team volunteering can go a long way. Afterall, a picture is worth 1000 words!
Straight from the judge's mouth
I also reached out to a few industry professionals who have participated in awards, either as a judge or organizer, to see what tips they could give.
Andrew Shulkind, director of imaging and content innovation expert, has been a judge for multiple awards within the media and entertainment industry, including the Studio Daily Prime Awards, Cine Gear Technical Awards, HPA Engineering Excellence Awards, Digital Hollywood Influencer Awards and more. When asked what he looks for in an award entry, he said:
"To me, the strongest entries fill a hole in the pipeline that I can actually see using in the field and recommend to others."
When it comes to tips for submitting entries, Andrew mentions proof of concept.
"These days, it's all about press releases and products in perpetual beta. There are so many ways that product engineering can activate technology to help solve real problems or ease actual pain points. I'm unimpressed by whiz bang vaporware that will never be broadly adopted or an existing company checking a box with a minimum viable product. The virtue is in helping to make content better, faster, cheaper and easier."
For Future Publishing's Best of Show Awards program, they try to give entrants as much direction as possible with a helpful FAQ section on their website.
Future's content director, Tom Butts explains that "winners [of the awards] are selected by a panel of professional users and evaluation criteria include innovation of concept and design, creative use of technology, price value, and suitability for use in a broadcast TV/pro video or broadcast/online radio environment."
Some of Future's Do's and Don'ts to maximize chances of winning in their FAQ mirror many of the same tips I listed above – which means you should probably take note! ?
When it comes to industry awards for PR, communications, advertising and marketing, a lot of these tips remain the same. You need to demonstrate how you achieved success, and your entry needs to be concise and easy to read. Our very own lorry director of North America, Meredith L. Eaton has been a judge for some PR industry awards, including PRSA's Bronze Anvil Awards and PR Club's Bell Ringer Awards. Here's what stands out to her…
"There are a lot of 'nice to haves' in an award entry – like testimonials about the work being put forward, disclosure around cost or budget, or industry statistics for context – but my number one must have is a solid link between the objectives, strategies and results.
"If an objective is mentioned up front, I'd better see a strategy that shows how the entrant set out to achieve it, and how it fared. Every objective must have a correlating strategy. And, similarly, every result must match a strategy and objective. If it doesn't, you've either forgotten about one or the other, or it's not worth mentioning at all.
"Oftentimes, award nominations look back at work done over a substantial amount of time. And, so much effort goes into the planning phase before any results are even generated, so your submission is no time to skimp on the strategic approach. Just make sure it all ties together!"
Now, the next time you're submitting an award entry, remember these tips as they could help you nab that recognition you or your client deserves! If you need help creating award-winning entries as a part of your PR or marketing strategy, contact Red Lorry Yellow Lorry at hello@rlyl.com or +1 310-773-3760.