BVE is known as the leading broadcast, production and media tech exhibition in the UK. It is a mega-show full of original ideas, cutting-edge innovations and some fantastic conversations. Our very own London lorries Alex, Rachel and Philip attended BVE 2019 and have shared their thoughts, impressions and experiences of the show.
---
What did you think about the BVE 2019 show?
Rachel: This was my first broadcast trade show, so as a first-timer, BVE 2019 was a great one to kick off with. It was great seeing cutting-edge technologies from a range of brands – from the big industry players to the newest and emerging innovators in the Start Up Zone. Plus, the audience turnout across the panels really spoke to the calibre of the speakers and topics. There were some really engaging, open and honest discussions about what's happening in the industry – achievements and challenges alike.
Philip: If I could describe the whole show in one word it would have to be "engaging". A lot of buzz on the show floor and a lot of conversations, panels, speakers, you name it. I was impressed by the quality of the speakers and moderators most of all. Some of my favourite panel sessions at the show were moderated by Kate Bulkley and Neal Romanek.
Alex: BVE 2019 was my sixth show, I've seen it as a visitor, exhibitor and from an agency perspective! An ever-changing show that offers a range of industry delights and innovations from lighting to talent acquisition, the 2019 edition offered some of the best panel and presentation content I've seen for a while.
---
What do you think were the top three trends?
Rachel: eSports, machine learning and Brexit.
Philip: In no particular order, Brexit, eSports and 4K/new formats.
Alex: This year saw an eclectic mix of brands and industry leaders at BVE, but I'd say the top three trends were digital content supply chains, editing craft and content creation, and LED lighting.
---
What was your favourite trend or the most interesting tech you saw at BVE 2019?
Rachel: Brexit was, unsurprisingly, a theme that ran throughout the show and underpinned a number of the discussions. There were some really insightful and engaging conversations around how Brexit uncertainty is impacting the industry, from broadcasters to production companies, and it was great to see collaboration and practical advice being exchanged.
Philip: The most interesting trend for me was the discussion around new formats. The question on everyone's lips at the show was "why are broadcasters not offering an abundance of 4K content when there are so many 4K/UHD TVs?" The answer, to quote Theresa May is "simples" – it's all about the cost. This means that broadcasters need to focus on where they spend their money and how they spend it, whether that's on bandwidth, equipment, CDNs etc.
Alex: Optimising content supply chains: Cloud has been a hot topic over the last 18 months, so it was no surprise to hear the buzzword in and around BVE. One of the biggest issues for content producers and organisations alike is managing the huge amount of content that's captured, produced and delivered to a growing number of platforms! Organisations are looking for ways to manage and streamline their content management, it seems that cloud is the way forward. From fully virtualised content to mixed on-prem and hybrid workflows, the future looks bright for well-managed assets – particularly with the introduction of automated workflows and microsystems that have the intelligence to self-diagnose!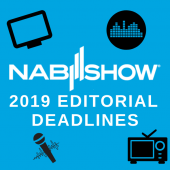 Suggested Post
In just over a month, the media and entertainment technology industry will converge on the entertainment capital of the world...
Read More
---
What were the conversations around the different speaker panels and on the show floor?
Rachel: eSports. These were fascinating because the eSports industry is, in a way, the ultimate test of broadcasters, service providers and production companies' agility. From an infrastructure point of view, eSports has created a new breed of live event, which is constantly changing thanks to the continuous stream of new games and competition styles. This has brought with it unique broadcast demands that require entirely new ways of thinking. The overall message was that there is a massive untapped opportunity for those delivering eSports broadcast and content. The future is certainly exciting!
Philip: On the show floor people were talking about AI. Specifically, AI in live production. As I mentioned to a few journalists, I find it fascinating that we're on the cusp of automating processes and workflows for production teams. Imagine live content edited/directed by an AI and automatically assigned meta-tags. And what about emotion? Cataloguing beyond what we see, making it easier for production to automate their processes. This part of the industry is buzzing and will come to the fore more at next year's event.
Alex: Creativity and craft were the talks of the town this year! From the Dome to the Production of Business theatre, each stage saw a whole-host of thought-provoking and creative sessions, packed-full of eager industry delegates absorbing high quality content. This included master classes from Cinematographer Phillip Bloom, in-depth discussions on optimising cloud workflows – featuring lorry client Aspera – and a selection of BAFTA and Oscar-winning editors discussing their craft using Avid solutions on the latest films in 2019.
---
Anything else you want to add?
Rachel: Looking ahead to BVE 2020, which is moving to a new slot in June, I'm looking forward to seeing the themes as the show makes more moves to enter and support new industry sectors – such as live production and connected media.
Philip: I hope that they bring even more speakers and curated sessions. People really want to get a sense of what the industry is currently focused on. Plus, more "coffee type" group sessions with engineers and product people. That personal interaction is priceless. Let's see what the 2020 edition brings!
Alex: After BVE's decision to move the show to June next year, it's going to be interesting to see where the show lies within the industry's calendar. Historically, NAB has been the natural stage for product announcements in the US, with IBC being the stage for European showcasing. Will the big players continue this trend or will they use BVE's new date as an opportunity to follow on from NAB and preview, maybe even showcase, products that were announced a few months before?
Interested in how the lorries can help you with b2b tech PR, marketing or tradeshows like BVE 2019? Drop us a line at hello@rlyl.com or visit our contact page.
To stay up to date with our latest content, make sure you sign up to our newsletter.