The Oscars, Black Panther and the CIA's night on Twitter: can all brands find a (funny) home on social media?
We work with a lot of cool tech brands in the media and entertainment industry. In fact, our long-time client Avid's tools were used by every single Oscars nominee and award winner in the best picture, sound mixing, sound editing and film editing categories this year. So, naturally, on Monday night during the award ceremony, I was following along on social media.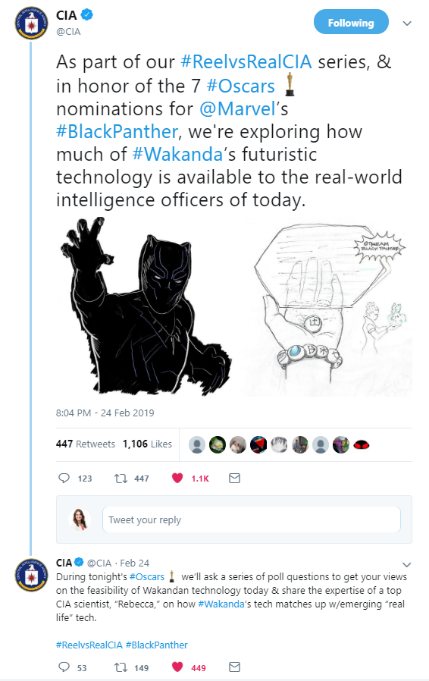 But, amid the posts and banter about the Oscars' winners, losers, musical guests and fashion, one tweet stood out. It was from the CIA.
Pictured right, this tweet latched onto the CIA's #ReelvsReal campaign as the agency's Twitter account took a look at some of the seemingly futuristic tech in the Marvel superhero movie Black Panther and sought to demystify what's real and what's not.
After an Oscar filled night of CIA polls, revelations and links to other neat info, the Black Panther ReelvsReal campaign was decidedly fun, engaging… and unexpected.
So, if the CIA can do it, can every company find a home on Twitter, and can it be funny?
After all, one would think the CIA – with all of its secrets and covert ops – would be the last to join a platform meant to disseminate news and views to the masses. But, the campaign worked, largely because it was in keeping with the agency's purpose and social tone.
Purpose – The CIA found a way to relate a current event (the Oscars) back to its agency through a relevant connection (spy technology and gadgets).
This is something PR pros and companies try to do all the time through newsjacking, so why should the CIA be any different?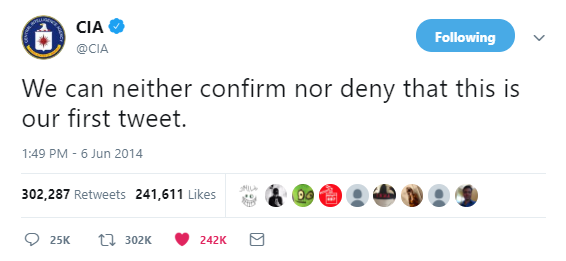 Tone – From day one, the CIA has used humor on its social feeds. Its alleged first tweet has gone down in history as one of the most epic posts of all time.
And, while its humorous tone has sometimes been controversial – like with its Tupac tweet – it has largely been well received, and maintained.
Rethinking Social
Still think your brand doesn't have any business being on Twitter? Perhaps it's worth rethinking your social strategy after seeing how the CIA has taken it by storm – and to great effect.
Although posting funny tweets and pop-culture references may not help the CIA defend countries or catch criminals, it does provide other benefits.
Humanizes the brand – For a predominately secretive organization, social media – and a sense of humor – offers the CIA a chance to humanize its brand and be seen as more approachable. It lifts the veil a bit and shuns stereotypes of being an old, boring agency, and may help it reach new audiences – perhaps even the next wave of secret agent recruits.
Creates a platform – It's easy to get caught up in Hollywood's version of the CIA and forget that it is a company like any other. It has staff; it has recruitment needs; it even has employee benefits (spies need sick days, too!). Social media gives it a platform to help with things like hiring and employee engagement.
Recognizes what it's not – Social media has its place, but there are plenty of subjects that don't (and shouldn't!) belong on social media. Establishing what the platform will and won't be used for is key. So, while the CIA can't tell followers about its agents' current missions, it can offer up facts and even recognition for past service.
Offers a chance to participate – Conversations are going to happen on social media whether the CIA tweets or not. Having an established platform gives it a chance to participate and control the message with whatever factual information it can share, leaving followers with more to go on than rumors and speculation from unofficial accounts.
Working in B2B tech, we see a lot of brands that don't necessarily think social media is for them, or brands that are adverse to portraying a fun, playful persona. But, with the right strategy and counsel, the rewards can outweigh the risks. So, perhaps it's worth a shot!
If you'd like to chat about your company's social strategy, drop us a line at hello@rlyl.com.