Listen to the podcast
We're currently seeing a huge shift in marketing tactics, as brands and businesses continue to create more bespoke campaigns to deliver messaging directly to their target audiences. Competition is high and with so many platforms to utilize, it's difficult to stand out from the crowd – a challenge seen across both b2b and b2c industries. That's why a 360-marketing approach is key for audience engagement.
Modern marketers need to look beyond a static campaign. Gone are the days where brands could push the same message or products over and over again to an entire market. It's time to consider a more integrated 360-marketing approach that combines PR, direct marketing and digital tactics when promoting themselves to the relevant audiences and creating two-way conversations. That engagement is paramount to the success of any mixed-campaign strategy.
In this episode of the Talking TechComms podcast, we spoke to London lorries Alex Rabone, Dan Simpson and Alex Humphries-French to get a deeper understanding of what components should exist within your 360-marketing strategy. Listen to the podcast here and read what they had to say below.
---
The world of PR
By Alex Rabone
Traditional PR still plays a central role in any 360-marketing campaign. The best way to engage with your audience is to blend together a range of different PR activities, all of which should be geared towards the same end goal. Here are three key areas of public relations you should be nailing for maximum engagement:
1. Messaging
Messaging is like the wardrobe of public relations. How do you want to look and present your business to your audience? It sets the underlying foundation for all PR and marketing efforts.
Brand messaging provides the opportunity to tell your audience how you differentiate from your competition. It enables you to stand out in a crowd and also engage with customers, discuss the issues they're facing, and how your company can help.
Effective brand messaging must have continuity across the business. Whether it's PR, digital or direct marketing, ensuring message consistency throughout your 360-marketing efforts will help customers build trust with the personality of your brand.
Finally, it's important to remember that brand messaging is becoming more personal. Even in b2b, businesses are using employees, customers, influencers, and other stakeholders to push their messages to their audience.
2. Media relations
Finding out who your audience is and where they're consuming content is the critical first step. Once you've identified the relevant publications, having good relationships with key contacts in the media makes a big difference when it comes to getting coverage – which will help to build the profile of your business.
A spokesperson's presence in the media gives brands a personal and expert voice that an audience can trust. Spokespeople can be experts in their own right, but establishing trust is everything to earn coverage and engage an audience.
As such, it's important to provide spokespeople with routine media training, in order to maintain the continuity of a brand's messaging and help them make the most of every media opportunity.
3. Thought leadership
Brands and their spokespeople establish themselves as experts through thought leadership content. Original and intelligent insights help establish brands and individuals in an industry, once again all with the goal of earning and continuing to build trust.
The likes of industry news comments, contributed articles with key industry publications, and interviews with influential journalists can all help promote a brand's messaging and establish credibility.
Thought leadership is still a great method for engaging with an audience, as long as you have access to experts that are open to sharing their specialist wisdom
4. Speaking opportunities
These offer b2b organizations the chance to speak directly to a captive audience that have an interest in the industry and the issues being discussed.
Arguably, speaking opportunities are one of the most effective ways to engage with your target audience, primarily because the people you're speaking to have actively chosen to be there.
Webinars, interviews, speaking slots at trade shows and other events are really effective for businesses, helping to solidify the organization as a thought leader in the industry.
And always remember to leave enough time for Q&As if the opportunity presents itself. Businesses often make the mistake of not actively interacting with their audience, even though audiences will respond better to two-way communication.
5. Awards
Finally, there are industry awards, which offer unique third-party recognition that can have a real impact on potential customers.
Differentiating your business from a competitor can often be quite challenging. However, awards acknowledge excellence in an industry, with the winners being selected by an impartial panel of experts that customers can trust.
Winning an industry award can make a substantial impact in the decision-making process of a customer's buying journey – making them a valuable accolade to have. In addition, award shortlists and triumphs also provide valuable content to promote on blogs and social media.
---
The digital arm
Audience engagement is a vital part of any b2b 360-marketing strategy and in an increasingly digital world, many audience communities are appearing online. These can appear through the likes of social media, forums, brand websites and online publications. So what can you do to engage these audiences and employ digital methods to hit any business goal you may have?
Platforms like YouTube and Instagram have helped the influencer industry skyrocket in recent years, but according to Social Media Today, 67.6% of brands find discovering and building relationships with influencers to be the biggest challenge. When it comes to b2b industries, identifying the platforms your target audience are using and the content they are engaging with are the first steps to identifying suitable influencers. Creating lists of journalists, analysts, publications and thought leaders in your target industry helps to monitor relevant content put out by target influencers and makes it easier to engage with them directly.
Just like content marketing, influencer marketing consists of two separate branches – paid and organic. Paid promotion is the most talked about side. Paying influencers to promote you, your brand or your content can often be spotted a mile away, whether that's a sponsored post, a paid placement article or advertising through things like podcasts. There are still benefits of this method, such as the reliability and quick turnaround times, but it can often set you back a lot of money and there is no longevity behind it.
In comparison, the organic side involves identifying relevant influencers and building natural relationships with them – through things like commenting, liking and messaging on social – to open up a direct line of communication. Through this method, you can build long-lasting and mutually beneficial relationships without paying a penny. The flip side is that it takes a long time and a lot of work to nurture an influencer from scratch, like any relationship, and there's no guarantee it will pay off.
Whichever method you choose, establishing an open line of communication throughout your 360-marketing strategy – whether that's between you and your customer, you and your target influencers, or influencers and your target audience – is key to building relationships and pushing potential customers through your sales funnel.
PPC and social advertising 
Pay-per-click (PPC) and social advertising have become vital components of b2b audience engagement. As social platforms and organic search rankings have become overrun with competition, a lot of platforms are leaning towards a "pay-to-play" approach. Objective-based advertising on both Twitter an LinkedIn allows you to tailor your ads to the aim of the campaign, whether that's lead generation, brand awareness or so on.
A plethora of different ad types sitting across the various platforms gives brands the opportunity to target their audience in many different ways, from simple text, video and images. Putting the right message in front of the right person is key to getting results. Since many people have moved to online advertising, b2b audience engagement has become highly competitive, so an objective strategy must be put together. Think about:
What your aim is
Who your target audience is
What your KPIs are
Optimization of ads is a must when running a campaign. To see what works when it comes to audience engagement, testing different ad types, copy, CTAs (call-to-actions) and audience parameters throughout the duration of the campaign, will help you drive the best results.
LinkedIn has the best targeting for ads, which presents a huge opportunity for b2b brands. Targeting by company, seniority, job titles, location and more means b2b brands can place their message directly in front of the right people. This does come with a disadvantage though: price. LinkedIn's CPC (cost-per-click) is notoriously high, usually hitting the £7+ mark (compared to Google which can be as low as £1-2.
Another aspect is remarketing, which is one of my favorite forms of online advertising. Targeting people who have previously engaged with your brand is a great way of securing another touchpoint and collecting more information about the audience member. For example, if a user has visited a product page on your site, offering them a free demo can help push them through the sales funnel. The same goes if someone engaged with a specific piece of content and you want to promote a relevant whitepaper to them. Just remember not to be too salesy too quickly. In b2b, multiple touchpoints in your 360-marketing are needed and the buyers journey is much longer compared to b2c.
Content is everywhere nowadays, and their average lifespans are constantly lowering. Most engagement with a Tweet happens within the first 18 minutes of its life, so how can you increase its reach, and most importantly, engagement?
Visual content has been shown to improve recall by 55% over a three day period, and social media algorithms are now favoring video content. Other than YouTube which prefers content 10 minutes or more in length, short videos work well on Twitter and LinkedIn (between 20 seconds and 2 minutes). Visual content isn't limited to just video though. Consider infographics, gifs, images, slideshows on LinkedIn and, if you've found a successful way to do it in b2b, memes.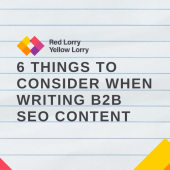 Suggested Post
Writing SEO content is never easy and a lot of the time tips and tricks are geared towards b2c industries, rather than b2b. SEO is a...
Read More
---
Direct marketing
By Alex Humphries-French
Traditionally, direct marketing allows you to communicate with a target market and directly promote your product or service. From email campaigns, to face-to-face promotions at shows and even old-school telesales, brands can actively look to sell their solutions or products directly to a current customer or to a cold lead – ie someone who doesn't know the company, yet!
But it doesn't work in isolation. Without a combined 360-marketing strategy that includes digital approaches such as influencer marketing, PPC and social advertising, as well as a strong PR strategy that incorporates consistent brand messaging, thought leadership and awards, it will be difficult to nurture the target market and create trust in the brand
Ultimately, the goal is to engage with the market, create trust and sell. To achieve this, there are a few key factors that brands need to take into account when designing a 360-marketing campaign.
1. Know your audience
It's so important to know who your audience or market is, especially if your products and solutions sit across different sectors and verticals. For example, one solution may be suitable for remote production, but not for studios. Knowing who will buy into your product, what evokes their interest, and how they will engage and when, will dictate what your messaging is. Look at your competitors to see what they're talking about, then identify your targets' challenges and how can your products can solve them.
2. Choose the right channels
With so many platforms out there, it can be easy to spread yourself too thin. Where does your market interact the most? From a b2b perspective, Twitter and Linkedin are the go-to, with Facebook seen as a more consumer platform. It can be expensive to promote content to targets across all platforms, so choose wisely and think about what message you want to promote. Emails can be a great way to get products and branding directly to your current and potential customer-base, particularly after trade shows.
3. Be relevant and get personal 
Create and deliver bespoke content to your audience. You can fine-tune your content and who it gets delivered to. That relevant and personal email newsletter, blog or even podcast can be sent to your current customer list and prospects through social paid-for promotion, via a database you've collected from your cross-platform campaign or simply at trade shows and events. Targeted content with a specific call to action such as answering a Q&A, reacting to a special product promotion or reading a white paper containing valuable industry insight will evoke engagement and encourage people to buy into your brand.
4. Measure and adapt
The benefit of digital marketing platforms and direct response campaigns is that they give you the opportunity to measure your results. Utilizing data from email campaigns with open and click-through rates, and engagement such as comments, likes and even sentiment across social, can all help to understand customer trends. For example, if you're not sure when to send out content, do small sample tests and react accordingly. And don't spam or push too much content, as your audience doesn't want to be bombarded with constant messaging from your brand.
Remember: data-led 360-marketing strategies are now at the forefront of the most captivating and successful campaigns.
Need help developing a 360-marketing strategy? Check out our brand positioning, audience engagement and lead generation services now or drop us a line at hello@rlyl.com. Check out the Talking TechComms podcast on the following platforms: