Sign up to our newsletter for PR and marketing tips
While watching TV used to be a collective experience, shared and then discussed by the masses, the times they are a-changin'. Listening to those in the know speaking at the recent Broadcast Tech Sports Tech Innovation Forum, the future of viewing lies in personalised TV. And as much as the current media arms race in online streaming is about producing unmissable content to pull in subscribers, there is significant attention and allocation of resources going into delivering higher quality and a more personalised TV viewing experience. It was described during the event's State of the Nation session as a shift from "one-to-many to one-to-one."
The chief enabler of this evolution/revolution is OTT TV, which provides the platform to deliver a superior picture and sound quality and more targeted content, while at the same time sending invaluable insights back to the service providers on viewer behaviour and stream and programme performance. As we all become more connected and have the means to watch content anywhere and at any time, there is an increasing desire to have the autonomy to control not just what we watch, but how we watch it.
This is where a lot of the industry's focus currently lies. Significant work is going on behind the scenes to ensure that the content available to people can be refined even further to meet their specific needs or interests. If I follow a certain football team for example, I may prefer to watch a more localised presentation of their matches rather than the main production. On a rolling news channel, I may choose to refine what information is displayed on the on-screen graphics, particularly if space is limited when it's being watched on a smaller screen such as a smartphone. I may also be more likely to sit through the adverts if they are targeted specifically at me, based on my viewing habits and likely interests.
While today's audiences are increasingly tech-savvy and spoilt – demanding quality content and viewing experience anytime and anywhere – there's a lot of bluster and blinding by science out there for them to wade through. During his keynote speech at last week's Broadcast Tech event, BT Sport's COO Jamie Hindhaugh urged content providers to be less obsessed with pushing industry buzzwords and concentrate instead on creating what he called "the ultimate viewing experience."
His point was that the audience should not be bombarded with often unnecessary technical jargon such as 4K, HDR and UHD and instead have the confidence that what they are watching has been captured in the highest available quality and is optimised to suit their personal preferences. If they are watching on a 70" screen at home, then they should expect that their content is being delivered in the best format for those conditions, whereas if they are sat on a train with limited connectivity watching on a phone, then there's no point them streaming it in 4K.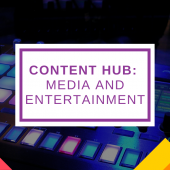 Suggested Post
The media and entertainment industry (M&E) has always been a fast-moving one, but never has this been the case more than...
Read More
Although how we consume content is becoming a more personal experience, we're still keen to engage with others about what and how we are watching. Research from Nielsen shows that 45% of viewers in the US are using their devices while watching TV. And with much of this second screening involving social media, it's never been more important for broadcasters and OTT service providers to listen to their audiences and shape their offerings to better fit these.
It doesn't take long these days for negativity to spread around technical decisions. Much-hyped streaming service Disney+ was forced to bow to public pressure and announce that it will make an additional version of the first 19 seasons of The Simpsons in its original 4:3 format after fans complained that the widescreen 16:9 aspect ratio the episodes were streaming in was cropping out many of the cartoon's subtle visual gags. This kind of mis-step can cause major damage to a brand and highlights the dangers of underestimating the viewer and relying too much on innovation.
As Jamie Hindhaugh pointed out: "technology shouldn't drive where we go as an industry – the storytelling and audiences should."
Interested in personalised TV and want to find out more about our PR and marketing services? Drop us a line at hello@rlyl.com or visit our contact page.
Sign up to our newsletter for PR and marketing tips