As PR professionals start wrapping up 2018, we can reminisce on all of the things we've experienced – from the victories we've made to the challenges we've overcome. But when thinking back to those challenges, what was it that made the moment so stressful? For PR professionals, a media pitch – particularly if it involves phone pitching – can easily be at the top of the list.
In some markets like Germany, phone pitching is the norm for contacting journalists and influencers, In the US you see far too many PRs hide behind timezone differences or geographical location as a convenient reason to do an email media pitch instead.
The anticipation of rejection alone can cause a very stressful experience for many – causing sweaty palms and shaky voices – especially when expectations aren't being met. That same anticipation can echo anxious feelings from childhood experiences, like the first time you jump off the deep dock.
Nonetheless, the best way to cope with heart-stopping anticipation is to be prepared for your media pitch. Just as swimmers need to be strong enough to tread water and hold their breath for a certain amount of time, PR professionals who are phone pitching need to be prepared. Before picking up the phone, ask yourself – do you have all of our information lined up on the story you're giving, do you know and understand your target's beat, and do you know how to communicate the worthiness of your story fast?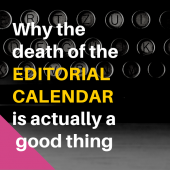 Suggested Post
Thick binders full of editorial calendars – "ed cals" to insiders – from various publications were once a mainstay of any PR pro's toolkit....
Read More
Don't let your nerves wreck your chances of landing key coverage for your clients.  Check out these tips to help soothe those nervous butterflies before you pick up the phone:
Don't jump in head first
No one should ever jump head first into a body of water (OUCH!) and the same applies to phone pitching. Before you even touch the phone to call a reporter, you need to make sure you know AND understand their beat and their interests. Reference a past article they've written and it will only help better prepare you for your conversation. Investigate days/times they are likely to face deadlines or be in editorial meetings and avoid them. (We use databases like Cision to help with this)
Hold your breath / plug your nose
When you're ready to pick up the phone to call your reporter, don't just jump right into your media pitch. It's always polite to first introduce yourself and then to ask, "do you have a minute?" This shows the reporter that you're respectful of their time and conscious of any upcoming deadlines that they might have approaching.
Make your jump quick, but flawless
Don't get caught rambling about your news or client. Make your pitch short, sweet and to the point but do so while painting a picture inside your reporter's head. For example, "I thought you'd be interested in a story about how predictive AI is helping to save millions and improve productivity for technology businesses." The shorter and more descriptive your pitch is, the more you'll grab their attention.
Always swim with a buddy
Throughout your media pitch, focus on making a long-lasting connection with your reporter.  It's easy to forget they are people too, so be friendly and energetic. Most journalists are open to chatting as long as they aren't on deadline so it's important to gain their trust. That way the relationship will be there when you have a news announcement or materials they might be interested in.
Wait until after you eat before you jump back in
Lifeguards say to wait 30 minutes after eating before we started swimming again –  the same goes for calling a reporter. If you call them and they don't answer, don't call again in the next 10 minutes. Wait an hour before calling them back. If they still don't answer, chances are they're on a tight deadline and unable to pick up the phone.
While phone pitching can be very uncomfortable, it can also be very rewarding. If you present yourself as a knowledgeable and respectful source, your targets will be more open to receiving your calls in the future. As the great Babe Ruth once said, "Don't let the fear of striking out keep you from playing the game."
For more on tips to ease your comfort when picking up the phone for a media pitch, hit us up at hello@rlyl.com or better still, give us a call!