Still have that Friday feeling? Can't wait for the weekend to begin? Yeah, me neither. One of the many 'quirks' (by that I mean soul-destroying things) that lockdown and constant #wfh has given us is that we are never entirely sure what day of the week it is – or where the boundaries between work and play are.
My job is all about digital, so I tend to spend quite a bit of time online. One thing that's struck me is the increased level of LinkedIn posts on my feed. It's little things like notifications pinging late in the evening and on weekends. It made me think – are LinkedIn habits changing for b2b decision-makers due to lockdown? Given that it would affect LinkedIn marketing strategy, I decided to take a closer look.
LinkedIn usage
Unsurprisingly the information is a little sketchy right now. LinkedIn isn't exactly an open book when it comes to data, but this year's Q3 2020 Performance report from Microsoft (which own LinkedIn) gives us some clues. Covering the quarter up to 31 March 2020, LinkedIn members have increased to 690m, up from 675m in January. Now, membership numbers aren't an indicator of active users – there are pretty of people that sign up and do nothing – but it does suggest that more sales and marketing teams are turning to digital channels. What's more interesting is Microsoft also revealed that the number of LinkedIn sessions (people logging in) has risen by 26% for the quarter. Not only that, but revenues (which often come from services like advertising and tools like Sales Navigator) are up around 21% too. LinkedIn ads expert, AJ Wilcox also revealed in a recent podcast that LinkedIn data shows a 55% increase in interaction and a 60% increase in people posting in the news feed.
All of this points to more activity on LinkedIn, at a time when many brands are being more cautious and many are expecting to reduce advertising spend. It will be interesting to see how things shape-up when they report on data from April-June 2020. My money is on LinkedIn trends pointing to even greater usage in the future. With new developments like LinkedIn Virtual events which allow you to schedule content like LinkedIn Live videos or recorded webinars, LinkedIn is making a big play for our time.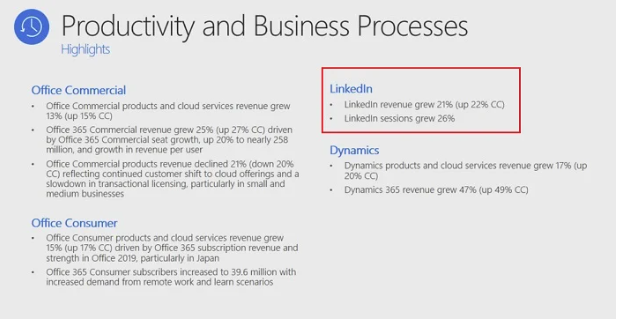 New habits
For our part, we're seeing more engagement around our clients' LinkedIn content (mainly b2b tech companies), on days we'd usually tell clients to avoid like Mondays or Fridays. Now, I have seen data from Sprout Social that suggests LinkedIn habits have remained largely similar compared to life before lockdown. According to its data, Wednesday at 3pm and Thursday at 9–10am Central time zone (CST) are the best times to post. Interestingly, Sprout suggests Friday from 11am-noon and that regular weekday engagement now starts at 8am rather than 7am CST, and finishes at 4pm rather than 3pm CST.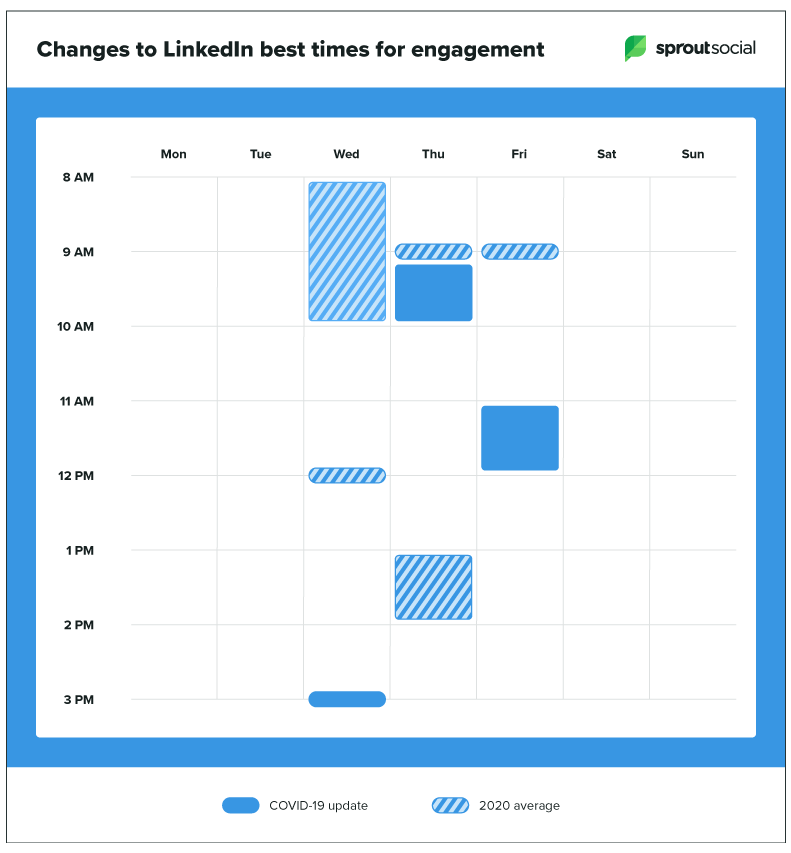 But I'd take the Sprout data with a pinch of salt. April seems like a lifetime ago, so I'd like to see more recent data before drawing conclusions. What's more, Sprout customers don't represent the entire LinkedIn community. And (as Sprout points out too) the data doesn't take into account factors like industry, location and target audience, which will all shape what the best time of day to post for you or your company is. I'm not suggesting that this data isn't robust (it's 200,000 customers) or that b2b marketers should neglect weekday LinkedIn posting, but my sense is that habits are changing. Saturdays and Sundays don't even register in the data and that will reflect the bias of b2b marketers not to post on the weekend.
Can I be totally certain? No. So in the absence of any hard data, I've used LinkedIn's new poll function to run a quick (aka unscientific) poll to ask people if they have been using LinkedIn more on the weekends since lockdown. The answer is yes. So far around 50% of people said that they were using LinkedIn more often over the weekend. While many were using the social platform at the same level as before, only a small amount were now using it less (so much for the lack of commute giving us more leisure time, eh?). Of course, that could just be a reflection on how sad me and my LinkedIn connections are (sorry connections!) but the responses do point to a changing LinkedIn trend on weekend usage for b2b audiences.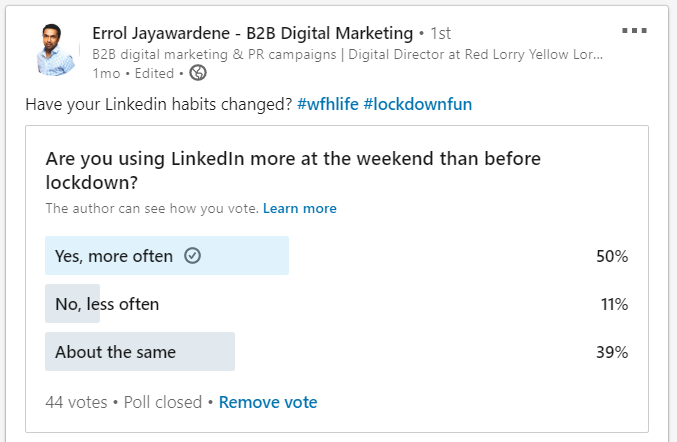 This is backed up by our client data, where we've seen some behavioural changes in company page feeds and PPC campaigns. We've noticed that PPC performance for campaigns is showing that although engagement is not yet on par with the weekday, weekend clicks have gone up. particularly, LinkedIn b2b technology members seem to be particularly more active on Saturdays.
Marketing tips
Of course, none of this is conclusive and habits will continue to evolve the longer we live with Covid-19. What's clear is that lockdown is a time for marketers to challenge existing pre-conceptions to see if they still apply. This could include:
Running a poll – why not ask your audience? If you are admin of a company (or group) or simply on your personal feed, create a poll to ask people if their habits have changed. And use the data to inform strategy.
Testing alternative posting times – test running content on Fridays and weekends, and at different times for a month or so. You can then compare your engagement rates to see what's working (and what isn't).
A/B testing types of content – test different types of content including written, image and video posts to see what content works best.
So, as with some many things these days, you need to adapt. I'm not advocating everyone moving to a 6 or 7-day working week either! Simply that people are more likely to work around patterns that work for them. Finding the 'new normal' is already a cliché, but it's definitely a time for marketers to experiment.
I'd love to hear your views, so drop me a note on my Linkedin. If you need help with b2b social media strategy, get in touch at hello@rlyl.com.