Sign up to our newsletter
We all know that PR and marketing professionals today face many challenges. Relationship building and maintenance? Check. Coordinating briefings at conferences? Check. Pitching news? Absolutely! But what should you do when you're in between news cycles? The first thing to remember is to not let a dry spell slow you down, as there are plenty of ways to create news out of a no news moment.
Get trendy
What trends in the news today can you tie back to what your company offers? For example, if you create technology for use in data and analytics work, then the election year is a gift just waiting to be unwrapped. In the USA, reporters will be interested to hear about any technology (like blockchain and AI) that relates to the election process – especially with the 2020 presidential election coming up. Look at your company's offerings and see how they can potentially relate to wider issues that you're reading about in the news.
Offer comment on industry news
You don't have to wait to have a press release in hand before going to the media. Read up on industry reports and studies and offer a comment on what you uncover. Whether you agree with the report or want to offer a different perspective, new insights will help establish your client as a thought leader on the topic. Don't be too shy to offer an opinion – it may help reporters looking to prolong the shelf life of their articles and will help get your name out there.
Survey says?
How better to prove that your company has a finger on the pulse of the market than by conducting a survey? By polling customers and partners, companies will gain a better understanding of how well (or not) they are doing on delivering on their promises, while a survey of reporters and analysts will give clients insight into how they are perceived in the market. After receiving feedback, take the results and analyze them for stats or story ideas that can be pitched back to the media.
Get the ball rolling
Momentum releases are your friend during any period of product news downtime. Is your company receiving award recognition for solutions and/or services? Have you hit any major milestones? Combine this news with recent customer wins and speaking engagements to relay these successes to the media. Now's the time to bang the drum and grab some attention for all the accomplishments you have achieved!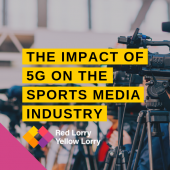 Suggested Post
5G networks will also help power the Internet of Things, allowing for an even smarter and more connected world. But what...
Read More
Look for days of recognition
There are a multitude of days and months of recognition – in multiple verticals including education, healthcare, manufacturing, technology and more – that could present opportunities for your company.
Days of the Year is filled with topics (from the silly to the serious) that are perfect for story ideas. For instance, August 1st is World Wide Web Day, a perfect day for b2b companies to recognize and share how the internet has changed their business practices. The month of September brings World Gratitude Day – a day that could be used to easily promote your company and executives by sharing what they're grateful for and how it has impacted their lives.
The key takeaway from all of this is don't panic if you think you don't have any news – and don't waste time waiting for something to happen. There is likely plenty of information and opportunity around you, so take a minute, be proactive and create your own news!
Struggling with how to create news or showcase your knowledge? Find out more about our PR and marketing services by dropping us a message at hello@rlyl.com or by visiting our Contact Us page.
Sign up to our newsletter