As the end of 2018 looms near, it's easy to get lost in planning festive activities for the holidays. After the last gifts are unwrapped and the tree is taken down, there's barely time to rest before CES 2019 begins. As the largest consumer tech trade show in the US, CES kicks off the conference season in Las Vegas, with new products and technologies revealed to throngs of attendees anxious to see the latest and greatest in consumer tech. But CES 2019 also presents PR opportunities for B2B companies looking to make their mark in the technology marketplace.
Consumer technologies unveiled at CES can and do greatly influence the development of B2B technologies. Think about consumers' fascination with flat screen televisions. Once an expensive item, flat screen televisions offering 4K/UHD (with HDR and 8K hot on 4K's heels) and more are now often found in most residences. When combined with sound bars and upgraded speakers, consumers are able to have a movie theater experience without leaving their homes. The in-home entertainment evolution has pushed B2B technology players in the media and entertainment industry to come up with solutions to help their customers create and distribute content in these new formats.
Consider other consumer tech products built for fun and entertainment that have been reborn with a B2B purpose: the technology behind the flashy robots touted as must haves for consumers of the future are being used in hospital settings to monitor patients' health and well-being. Evolution and adoption of consumer technology in the B2B market happens far more often than you might think – and it's also pushed an evolution in CES attendees.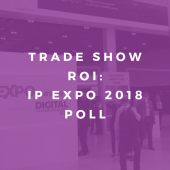 Suggested Post
Trade shows such as IP Expo have been a staple in the calendars of B2B businesses for decades, traditionally providing valuable....
Read More
Whereas the media attending CES typically came from consumer-focused publications in the past, we're now seeing strong representation from B2B trade press. These attendees are interested in the technology (of course) but also how the technology can be extended beyond the consumer market and into the B2B market. Coverage of CES 2018 appeared not only in consumer-facing publications, but also in business-focused ones like the New York Times, proving that CES just isn't for the consumer tech market anymore. It's important for B2B companies to keep this in mind when deciding whether to attend CES 2019 and planning their PR and marketing at the show.
CES 2019: Making a splash in a whirlpool
CES is not a mild-mannered show. B2B companies are competing with large consumer tech companies with expansive marketing budgets, often making it difficult for exhibiting companies to make their voice heard above the fray. B2B companies must have a PR plan in place before hitting the show floor. Here are our top tips:
Have real news to share – you're going to an enormous show in one of the country's flashiest cities. If all you can announce is a minor upgrade or a partnership with a company no one's heard of, you might be better off saving your news for another time and place.
Get on the floor – since most of the foot traffic at CES happens on the tradeshow floor, it's imperative that you have a presence there. Reporters only have limited time for visits and will likely not want to stray far from the floor to visit an off-site suite. Make it easier on them (and yourself) by staying where the action is – on the show floor.
Get the press list and selectively target contacts – many of the attending reporters will be consumer-focused, so it's important to vet them for relevance to your market before contacting them. After identifying your key B2B reporters, set up a time to meet and/or show them a private demo of your offering. Also, if you pre-brief your top targets under embargo ahead of the show, they may reward you with an article instead of just a cursory mention.
Give them something to look at – while it's all well and good to have the best offering, if it's something reporters can't actually see, then it may be difficult to retain their interest. Plan for an in-booth demo and activity that relays information and works well for photos and videos. This will give reporters something to look at, photograph and write about.
Document your journey – every smartphone has a video function. Put it to good use and film your company's story. B2B companies that film and post their experiences on social media or share through pay per click (PPC) bring the excitement of the tradeshow floor to an audience who might not otherwise be able to attend. The video can also be used to pitch reporters on the lookout for visual news, giving them an inside look at the event from the B2B perspective.
Slow your roll – unless you're a big, well-known brand (like Google or Apple), don't hold a press conference to announce your news. Reporters have limited time to attend and will likely not show up at all if the big brands are also making announcements.
Don't be Mr./Ms. Moneybags – there's no need to overspend on your CES 2019 presence if you don't have to. It's likely that many larger companies will throw exclusive parties with A-list celebrities, so competition will be fierce. Also, hosting a party during a conference week takes some major coin, so don't throw one unless you have a comfortable cash reserve cushion to fall back on.
Sometimes, things are out of your hands and out of your control (see CES 2018's power outage). But by putting a PR plan in place in advance, B2B companies can have a successful CES 2019 and make the positive impact they desire.
Want to find out how the lorries tech PR services can help you stand out from the crowd? Drop us a message today: hello@rlyl.com.