Red Lorry Yellow Lorry honoured for agency excellence and campaigns on behalf of b2b tech clients in enterprise IT, healthcare, and media and entertainment
LONDON – July 29, 2019 – The lorries are excited to share that we've won or been shortlisted for a record ten industry accolades so far this year, coming from some of the top regional and international public relations award programs – our most successful year ever. The awards spanned our offices in the US and Europe, across three of our practice areas, including enterprise IT, healthcare, and media and entertainment.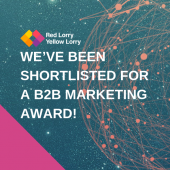 Suggested Post
Another week, another industry award nomination! We're delighted to say that we've been shortlisted in the B2B Marketing...
Read More
In the US, our team was recognized for their outstanding efforts with the following awards:
In the UK, our team was also recognized by top industry names including:
"We constantly strive to deliver the best possible campaigns for our clients, but it's always nice to be recognized by our peers," said Guy Walsingham, Red Lorry Yellow Lorry CEO. "PR agencies are under increasing pressure to deliver more meaningful outcomes, not just check off metrics. That's what we aim to do for our clients with our industry-specialist approach; and clearly we're doing something right. We're just honored to be recognized alongside so many other outstanding campaigns and agencies. It's been a great year so far – and it's not over yet!"
Want to learn more about how our award-winning agency can help your company stand out? Visit our contact page or drop us a note at hello@rlyl.com. And be sure to follow us on Twitter and LinkedIn.