Find out more about our global PR network
So you've conquered Europe, your brand's a household name in the US and now it's time to expand your PR and marketing activities further afield. South Korea might well be on your list and if it is, you've come to the right place. 
Running a successful PR campaign in South Korea isn't as simple as just replicating your content and strategy from other regions. There are plenty of local nuances that have to be taken into account, which will determine how much attention the local media pays you (if any at all).
To shed some light on these nuances, we spoke to June Cha, managing director of Chayun Public Relations – one of the most recognised independent communications services groups in South Korean and a member of our global partner network Convoy. Read on for June's key insights.
What are the common misconceptions around doing public relations in your market?
The biggest mistake made by companies that haven't done PR in the region before, is that they tend to think of Korea as a developing country. They also often compare Korea with other regions such as China and Japan – sometimes India – but these comparisons just aren't accurate.

People think that they can use their experiences of working in China and Japan as benchmarks for the Korean market, but just because you do something one way in another region, that doesn't mean it'll work in Korea.

Of course, new companies from the US or Europe often don't have any local experience to lean on, so in many cases we have to start from scratch – which is an interesting challenge!
What are the key challenges for businesses trying to do public relations in South Korea?
The first challenge for new companies is that having relationships with local journalists is very important and takes some time to build up. It can be tricky to get coverage from journalists without having a prior relationship, which means one has to be developed before businesses can start pitching them heavily.

It can also be hard to gain attention if you don't have a local angle. New companies often want to get into the big horizontal media (the Korean version of the FT, for example), but these publications primarily focus on major local companies like Samsung and LG. They don't spend much time on foreign companies unless an announcement links or contributes to the local market. Having a local angle will help gain the attention of the major publications and get your foot in the door.

Finally, the media market has shrunk significantly over the last few years, particularly in print. Although this trend has started to plateau a bit now, overall the size of the media landscape has reduced, making opportunities both more scarce and competitive.
When pitching a journalist, is it important to pitch in the local dialect?
It depends on what the campaign is and what story you have to tell. Most global companies that expand into the region don't have a local head spokesperson, but this isn't necessarily an issue.

In many cases, journalists actually prefer having access to someone from the company's head office for interviews and media briefings, even if they don't speak the language. Interviews can be done in English with an interpreter – journalists are generally open to these cross-language briefings.

They will always respect C-level executives, no matter the nationality. It's seen as a sign of respecting the media, instead of putting forward someone more junior.
How does public relations in the South Korean market differ from the US or Europe, in your experience?
One differentiator is that there's still a big focus on sending out blanket pitches to a wide audience – pitches don't have to be as targeted as other regions. You don't want to accidentally miss anyone out and get complaints from journalists.

What's key is having something tangible every time you interact with a journalist. Whether it's for a pitch or an event, there needs to be a substantial story, a presentation, press release, Q&A, or the right spokesperson. There has to be something journalists can take away, rather than just a casual meet and greet.

Another big difference is that the media environment has less variation than other regions, such as the US or Europe. Publications tend to be less niche and less specific, while other regions have more verticals and industry focuses. For example, datacentre media doesn't exist in South Korea – it would just fall into IT trade. The categorisation of media isn't as specific as in the US or Europe, which means businesses have to fit into broader categories. It's a very different ecosystem and media environment.
What type of content and social media platforms are typically used by b2b audiences in your region?
From a b2b perspective, Facebook is the biggest platform. Unlike other regions, LinkedIn is still generally considered to be more of an HR tool, so isn't as widely used for PR and marketing.

There are some local platforms like Band and Kakao, but these are more b2c focused. Instagram is the most used platform in general, but Facebook rules the roost when it comes to b2b tech.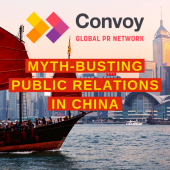 Suggested Post
Entering into the Asia market takes time, patience, experience and detailed planning. Public relations in China and the greater...
Read More
What do CTOs/CIOs in your region typically care about?
This can often depend on which industry you're talking about. South Korea is different to other regions in the sense that the country tends to be more heavily influenced by the political environment cultivated by each administration.

In general, CTOs and CIOs are most influenced by the political, economic and social environments. Since the political administration changes every five years, it can take some time for companies to adjust and figure out their priorities.

From a technology perspective, the likes of AI, IoT, smart factories, autonomous cars and semiconductors are some of the most prevalent topics.
What services or skills should you look for in a PR agency in your region, and why is it important to use a local PR partner?
The most important thing is to look for an agency that can provide consistency in terms of service quality. Unlike other regions, the size and prestige of an agency is less important. It's more about how long they've been working in Korea, whether they have put time into building up relationships with the media and if they know how to work within the ecosystem.

Factors such as local expertise and longevity in the region are vital – along with turnover as this tends to higher than other areas. Most companies start by asking about specific services such as content creation and digital capabilities, but the most important thing is to look in-depth into the core of the agency.
To find out more about our PR and marketing services, visit our contact page or drop us an email at hello@rlyl.com.
Find out more about our global PR network