Sign up to our PR & marketing newsletter
Entering into the Asia market takes time, patience, experience and detailed planning. Public relations in China and the greater region has to meet a set of crucial tests if it is to be successful.
We recently had the opportunity to talk to Dr. Gordon Wong and Claire Walker from Techworks Asia, a China and Hong Kong-based agency that specialises in PR for technology clients. As a member of Convoy, our global PR network, Gordon and Claire were on hand to offer their top tips for businesses seeking to enter and grow their presence in China and across Asia.
---
What are the common misconceptions around doing public relations in China?
A major misconception is that if you offer what you are convinced are the best products and services in the world, then you will automatically receive a warm welcome. However, China and the rest of Greater China doesn't work that way, simply because of its sheer diversity and wide variations in local market dynamics.

Taiwan is a case in point, where large enterprises co-exist with a large number of SMBs. While high-tech giants may have gleaming offices, labs and production lines in the country's "science parks", in the back lanes of Taipei and other cities small businesses may be operating out of basements and garages. This range of business diversity on one island is in stark contrast to the large, unwieldy corporate chaebols of South Korea, for example. In this situation, PR will need careful targeting to be effective.

On the Chinese mainland, the proliferation of mobile communications has enormous ramifications for PR and for business generally – mobile phones are now frequently used to make purchases, physical as well as virtual. Above all, PR agencies that have all the necessary skills to communicate via social media and messaging apps on mobile phones now have an absolutely central role to play. This cannot be overemphasised.

Another quite fundamental misconception is that China lacks a developed digital communications infrastructure – that internet-based services are probably slow and inefficient, and mobile messaging probably nonexistent. In fact the opposite is overwhelmingly the case – throughout Greater China, Japan, South Korea and Singapore.

Companies striving to enter the China market need to be aware that web-based communications are alive and well developed, and it is imperative that a new market entrant sets up its own Chinese-language website – using mobile-friendly site design! This is not simply business and PR common sense; it's a sign of respect for the local culture. A PR agency such as Techworks Asia is able to advise and assist with that process, based on our 20 years of experience in the region.
What type of content and social media platforms are typically used by B2B audiences in China?
Social media is now extremely important in China. While many well known social media outlets such as Facebook and Twitter are not permitted, there are local variants. In particular, WeChat, a very versatile mobile messaging platform, enjoys huge popularity and is quickly overtaking the previous success of the Twitter-like "weibo". By the end of 2018, the number of WeChat MAU (monthly active users) had reached 1,098 million, while around 80% of the top 500 enterprises in China are now registered as WeChatWork corporate users.3

The spectacular growth of WeChat explains why it is now seen as a powerful tool for b2b communications in China. Techworks, for example, recently organised a very successful WeChat Giveaway campaign for a global tech company at a recent China trade fair in Shanghai. Visitors to the company's booth were encouraged to enrol in a lucky draw and then follow the official fanpage on WeChat or interact on the social board, motivated by the possibility of winning attractive prizes. We formulated the plan and campaign deliverables, managed the entire process (including the lucky draw itself) and tracked data and information throughout the campaign.

A total of 1,031 people entered the competition, and the number of the company's "followers" on WeChat grew by 52%. The number of WeChat users reached was 11,724, resulting in 598 reads. We think this is one very effective way of gaining mindshare at a very large trade expo where thousands of visitors are being bombarded with countless other brand messages.

Successful public relations in China will, of course, need both the language and cultural skills to use WeChat to its advantage – i.e. in order to mount PR campaigns and gain followers.
What are the key challenges for businesses trying to do public relations campaigns in Asian markets, including China?
The potential barriers for companies seeking to enter the Asian market include a lack of understanding of the needs of the region, which differ from country to country, and even within countries. There is intense competition and there can be cultural difficulties in localising services, support and product delivery. Logistics can also be challenging – both Indonesia and the Philippines comprise thousands of islands, for example.

Furthermore, the linguistic challenges of public relations in China, and throughout Asia generally, are obviously quite formidable. A PR company in Asia will go nowhere without staff who are able to speak Chinese fluently – preferably Cantonese as well as Putonghua (Mandarin) – and also edit and translate written materials, whether in Simplified or Traditional Chinese. Techworks has these tried and tested resources. Agencies that have just woken up to the opportunities that abound in Asia will find that recruiting these skills and retaining them is not an easy process!

The regulatory frameworks of individual countries and markets will also need to be researched and understood, including the issues surrounding the protection of IP (intellectual property).
What services or skills should you look for in a PR agency in your region, and why is it important to use a local PR partner? (What skills should a company look for in their agency and why should they use your agency!)
Over the long term, companies will need to recruit skilled personnel who are able to localise product delivery, as well as customer service and support. They need a PR company that has the language skills and local contacts, resources and understanding to help with this. Culturally, the key is for PR clients to develop long-term trust by working cooperatively with the customer, which will cement long-term business relationships. We can boil this down to six strategic client actions:

Study individual markets in Asia and Identify unique customer needs
Work with the customer to define unique solutions
Build long-term relationships rather than focus on short-term results
Build long-term trust. Demonstrate your commitment to your customers and that you're not in Asia simply to make "a fast buck" and then go home
Demonstrate how new technologies can be applied
Offer customer services and support on the ground – invest in a local office or sales team

Simply put, a local PR partner with long-term experience on the ground in Asia is best placed to understand local markets and to provide the resources and know-how with which to get things done. In the case of Techworks, for example, we have offices in both Hong Kong and Beijing, plus other local contacts and resources.
How do public relations in Asian markets differ from those in the US or Europe, in your experience?
The basic message given to all external companies wishing to do business in Asia is: "understand the importance of interpersonal relationships". In the case of China, this will be accompanied by a lesson in the meaning of "guanxi", which is a valuable message across the whole of Asia because its essence is one of developing trust.

A local PR agency will be able to advise on the small cultural nuances that may seem a little odd or surprising to first-time clients from the US or Europe. The care and manner with which business cards are viewed, analysed and exchanged is a case in point.

Companies wishing to enter the China market will also have to do their homework on the economic and political realities of China, simply because they will need to align with the country's economic goals. These goals are outlined in the "Five-Year Plans", and in similar planning initiatives. In 2015, policy guidelines indicated 10 priority sectors ripe for development:

Next-generation information technology (IT)
Automated machine tools & robotics
Aerospace and aeronautical equipment
Maritime engineering equipment and the manufacture of high-tech shipping
Advanced rail equipment
New-energy vehicles and equipment
Electrical power-supply equipment
New materials
Biomedicine and high-performance medical devices
Agricultural machinery and equipment

These industries constitute nearly 40% of China's entire value-added manufacturing. Successful public relations in China will advise its clients of these local market priorities, where companies will need to demonstrate innovation, entrepreneurship and free-market virtues in a country usually associated with a high-level of state intervention! Techworks has a blog on its website where we explain some of these issues.
What do CTOs/CIOs in your region typically care about? (What motivates them, what are their key challenges? How does that feed into PR?)
When you read China's Five-Year Plans, it becomes clear that the goals are not simply defined in production figures, but also what we might call the "style" of production. The aim is to replace old-style industrial mass production with computerised ultra-automation according to the vision of Industry 4.0, a concept that originated in Germany.

With this in mind, innovation and AI are the buzzwords of the day for industry in China, and naturally these shape the thoughts and cares of CTOs and CIOs in the region. The impact on PR is quite immediate. The client's messaging must be optimised for communicating how the client can contribute, whether in terms of equipment or services, to achieving these transformational goals for China.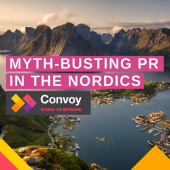 Suggested Post
Following on from our recent post on PR in the APAC market, the focus of our next article in the series focuses on myth-busting...
Read More
When pitching a journalist, what would you say are the important guidelines?
Positive engagement and cultivating relations with the media in Asia is absolutely vital, especially if the client has yet to find local customers. This is where advice on the local culture and language, and how best to approach local editors, will be invaluable. Years of experience in Asia has shown that face-to-face meetings, briefings and interviews are the key to successful engagement with the local press and the development of mutual respect and trust.

International companies seeking to enter markets in Greater China will need to engage with the local media in two ways. First, by meeting with print and online publications on the ground in China, in a programme of briefings and interviews, possibly linked to participation in trade fairs and expos. And second, launching campaigns through social media in China, using platforms such as WeChat and weibo. This will extend the Chinese audience considerably. Techworks has considerable experience in both of these areas.

The language issues will need to be thought through, and where required arrangements made for interpretation. Skilful interpreters who are both well trained and capable of understanding technical material – if the client is in electronics, for example – are difficult to find and not cheap. This is where local representatives of the client, and possibly the PR company's own staff, can often help.

As with the individual markets, the regional media will need to be analysed carefully. In China, the specialist press – the "verticals" who cover business, communications, electronics, engineering, finance, and IT – together with key national titles, are all clustered mainly in Beijing as this is the hub of central government. There are, though, additional verticals in key tier-1 cities such as Shanghai and Guangzhou, plus well-respected regional outlets serving other key cities.

Finally, it is important to dispel the notion that it is 'pay-to-play' in China. Ethics in China are under the spotlight at a national level and to infer that media coverage can simply be bought is disingenuous. Like the West, if you invite an editor to meet with you, you pay the travel expenses. And unlike many sectors in the West, we are not inundated with requests for payment to run releases online etc.
---
If you're interested in learning more about our global PR partner network Convoy, public relations in China or our PR and marketing services, contact us at hello@rlyl.com or visit our contact page.

Sign up to our PR & marketing newsletter