On our Analyst Relations 101 page, we round up the best tips from analysts and the lorries so that you can make the most of your b2b technology campaigns now and in the future. We will be frequently updating this page, so make sure you sign up to our mailing list to stay up to date.
---
Quick Links:
---
Tech analyst firms & independent analysts to keep an eye on
Most marketing teams are familiar with the Gartners, IDCs, and Forresters of the analyst world. But, are there smaller, more specialist technology analyst firms that you might be overlooking?
Smaller analyst houses and independent analysts who have struck out on their own may be more likely to give your team honest feedback. And, because they're not dictated by the same bureaucratic red tape that some of the bigger firms have to abide by, they can be easier to work with on joint research projects, media references, and more.
So, without further ado, we've outlined the top firms you should be keeping an eye on to make sure your technology analyst relations plan is all-encompassing:
Aragon Research
As an independent firm, Aragon Research helps businesses and IT executives navigate their way through technology's impact on the workplace. Its analysts have experience as end users, vendors, and analysts at bigger advisory firms. It covers a wide range of different business technologies, including everything from artificial intelligence, collaboration and enterprise architecture, all the way to meeting automation platforms, mobile, IoT and more. The firm was founded by Jim Lundy, an industry veteran with over 30 years' experience who spent 12 years at Gartner before branching out on his own.
Brookend
Founded by independent analyst Chris Evans, Brookend focuses on storage and virtualization. Chris has over 25 years' experience in the IT industry. In addition to providing consultancy services, he is the owner of Architecting IT, and regularly contributes articles to TechTarget (including Storage Magazine and Computer Weekly), Network Computing and The Register.
Constellation Research
This technology research firm is focused on a few key areas, including the future of work, the 'new' C-suite, data for decision-making, digital marketing and sales effectiveness, matrix commerce, next-generation customer experience, digital safety and privacy, and technology optimization. It publishes a number of Constellation ShortListTM roundups that rank the best solutions for specific enterprise needs. For example, the most recent shortlist it published rounded out the top Digital Experience (DX) Integrated Platforms.
Digital Clarity Group
The analysts at Digital Clarity Group are focused on helping business leaders navigate digital transformations at their organizations. The unique thing about the company is that its analysts have walked the walk. As they put it, "they know the work because they have done the work." They claim to have a deep knowledge of current products, tools, and systems available to today's business leaders for content management, marketing automation, social media management, customer relationship management, and so much more.
Freeform Dynamics
Freeform Dynamics' mission is to help IT professionals understand technology developments and current vendor offerings so they can make better purchases to meet their organizations' needs. Its coverage includes core infrastructure, digital transformation, end user computing, data and information management, intelligent systems, IT risk management, IT strategy and planning, software delivery, and IoT.
Moor Insights & Strategy
Founded by well-known industry analyst and Forbes columnist Patrick Moorhead, Moor Insights & Strategy, is a global technology analyst relations firm which also touts that its analysts have real industry experience. It covers a wide range of markets, including IoT, the software-defined data center, client computing, cloud, semiconductors, artificial intelligence and machine learning, and carriers. We recently had the pleasure of catching up with Matt Kimball, a senior data center analyst at the company, and he shared his insights into what makes for a good vendor relationship. He's also one of the co-hosts of Moor Insights & Strategy's DataCentric podcast, which you'll definitely want to check out!
Enterprise Management Associates
Just north of our Boston office, Enterprise Management Associates (EMA) is all about IT. And let us tell you, its IT technology coverage is expansive. It focuses on eight core buckets: application and business services, data warehousing, hybrid cloud and infrastructure management, IT governance, mobile and endpoint management, network management, security and risk management, and storage management. You'll find these analysts at some of the IT industry's biggest tradeshows, like RSA and Black Hat. But, if you want a meeting with them, you'll need to act fast, as their schedules fill up very quickly.
Enterprise Strategy Group
Enterprise Strategy Group is another technology analyst relations firm that is hyper-focused on the industries and technologies most relevant to IT decision-makers. Its coverage areas are somewhat similar to EMA, focusing on cybersecurity, enterprise mobility, analytics and artificial intelligence, data protection, networking, storage, cloud and converged infrastructures. Jon Oltsik is one of the most well-known analysts from this firm, and is recognized for the forward-looking pulse he has on the cybersecurity industry. He also writes very insightful and well-read articles for CSO. We highly recommend keeping tabs on his work to see what his next industry prediction will be.
Omnisperience
Omnisperience is a UK-based analyst house that is focused on digital experiences, and how that experience translates into business performance. Teresa Cottam is a distinguished analyst at this firm, serving as a judge for GSMA's Global Mobile Awards in the customer experience and enterprise innovation categories, and for the UK Cloud Awards. It's safe to say she's seen plenty of good (and some bad) products from vendors over the years, so she knows her stuff!
TechMarketReview
TechMarketReview is primarily focused on the UK technology market – its analysts know it inside and out. In fact, its tagline is "UK depth, global trends," so that should give you some idea of where the focus is! It covers the public sector, enterprise technology, and financial technology. Since its regional focused is so specialized, it has a much deeper understanding of the UK technology industry than some of the bigger technology analyst firms that are spread across multiple regions.
Storage Switzerland
Its focus is in the name – that's right, it covers all things data storage. If your company is in the data protection space, this firm needs to be on your radar. Focus areas include backup, cloud storage, deduplication, flash, NAS, object and SSD storage, and trends in virtualization. Plus, it frequently publishes articles based on recent vendor briefings. Founded by George Crump, these guys know the ins and outs of their respected industry, and have the industry experience to back it up (pun intended), too.
Timefort
Founded by independent analyst Rob Bamforth, Timefort focuses on a range of enterprise technology topics, including cloud, big data, security, and emerging technology. Rob used to be an analyst at Quocirca, and he now regularly contributes to Computer Weekly. He also judges for GSMA's Global Mobile Awards at Mobile World Congress.

 Back to top
---
Analyst relations tips from the mouth of an analyst
Part two of our analyst relations blog series is here! In the first article of this instalment, I covered why a good analyst relations program requires research, attention to detail and an ability to think bigger than the immediate needs of your company.
In this article, we catch up with Matt Kimball, a senior data center analyst covering servers and storage at Moor Insights & Strategy, to get his thoughts on how often he likes to stay in touch with vendors and what he thinks makes for a successful briefing.
How often do you like to stay in touch with vendors? How often would you like to be briefed by them in a given year?
At least quarterly. Even if there is nothing to report, I think it's a good practice for vendors to get into. Opinions change. Outlooks shift. Priorities get adjusted. As an analyst, it's good to understand all of this as it can provide context to those "surprise" announcements or roadmap changes that can sometimes leave analysts scratching their heads. It's also just valuable for the sake of relationship building. Honesty and transparency are important in any relationship. As an analyst, I want to know your real thoughts on a topic. Not so I can repeat them, necessarily, but because it helps me better understand you and your company. And on the other side, I'm sure vendors want to know my real, unfiltered opinions. But, it's hard to do that when I don't feel we know each other well enough.

Do you find that you get valuable information from vendors at tradeshows? In your opinion, what makes for a successful in-person meeting? 
I know I may be in the minority, but I hate tradeshows. I get their purpose. I get their benefits. But as an analyst, it feels like it's three days (or so) of wasted time.

What do I really like? Analyst summits. Pull us all together and let's spend two days going deep on company and product strategy and outlook. But, let's also skip those awkward group dinners where we all try and be social. We're not. And adding alcohol to the equation only makes things worse.

I really like in-person meetings (versus telephone, web, etc.). There is a familiarity you gain with a person or company that you don't gain by teleconference. In fact, I never really feel like I know a company until I meet with reps face-to-face. Now, this doesn't mean every briefing and every conversation has to be in person. But (going back to my first point) – the more I feel I know you as a strategist, and the more I get your company (culture, strategy, outlook, methodologies, etc.) the more confident I feel in the relevance of my feedback – and the more comfortable I am in giving it to you.
What makes for a good briefing in general?
When it comes to analyst relations, this may sound silly – but understanding what it is I'm being briefed on and sticking to that. I can't tell you how many calls I've had where the topic was "ABC" but the discussion quickly morphed into "DEF." Another thing is being complete. If you are going to get me on the phone for an hour to talk about the launch of a product, you should certainly be able to answer all of my questions in that hour. You are the product expert. You are the expert of that market segment.
What do you do with the information you've learned after a briefing/meeting concludes?
One thing I always do is go back and validate what I heard on the briefing, if possible. Or if there are other questions that the briefing caused (tangential in nature) – I chase down answers to those questions.

Another thing I always do is organize the notes I took. I will reference meetings from months/quarters back to see if market conditions, product directions, etc. are taking shape as anticipated. This is more for my education than anything else.

Finally, if what I'm hearing is very interesting – and if I think readers would agree that the topic is interesting – I will write about it (if not under embargo/NDA) and/or cover it in a podcast. That thing I write could be directly about the product I was just briefed on, or it could be more topical. It all depends. But, the vendor will always get a mention in my article/blog/podcast.

What's one thing vendors often do that will make you less likely to set up meetings with them? Biggest pet peeves?
If I sense a vendor is being disingenuous, I am much less inclined to give them a lot of time. If I feel a vendor is completely unprepared – ditto. And if a vendor is giving off the "I'd rather be anywhere but here" vibe – I will let them be anywhere but here moving forward. Look, analysts can be jerks. And we can be know-it-alls. And we have opinions. But, if I have a thought about you, your company or your product, I am going to tell you honestly and respectfully because I was that vendor in a past life. I've done the briefings and I've also been an IT practitioner, so I'm not some person who has been sitting behind a keyboard for 20 years playing armchair quarterback. So, afford me the same level of respect I afford you and give me a reason to want to write about you (I'm not going to write about you just because of a company name).

I'm sure you've seen a lot of presentations over the course of your career. How can vendors avoid 'death by PowerPoint'?
Dialogue. Conversation. You can give me 50 slides. If *we* talk through all 50 – I will be happy. Conversely – you can have five slides. If it's just you presenting to me, I'm going to start answering emails or watching cat videos within a few minutes. That's why I'm not a fan of group briefings. It doesn't allow for any real dialogue. And from an analyst view, I get sick of the same old people jumping in on Q&As asking questions that they think make them sound smart.
I know we've chatted about how much you personally enjoy reviewing go-to-market (GTM) strategies. What do you look for when analyzing a company's approach to a product launch? Can you tell (with a reasonable degree of certainty) whether it's going to be a success or failure?
If you ask me, I can tell with certainty whether a product is going to find success or failure in the market. Right? I'm an analyst – I know everything (kidding). You know, it's hard to say what I specifically look for when assessing launch plans and GTM.  Every company is different. Hardware v. software. Startup v. established giant v. established player.

It's impossible for me to look at a launch and follow-on campaign and say "yup – they are going to kill it." I try to understand the logic and rationale behind such plans. And that gives me a much greater sense of confidence in a product launch/GTM plan's chance of success. Because I look for the critical thought and actual strategy that fed into such planning.

What advice would you give to a company looking to launch an analyst relations program? What can they do to make sure they make a good first impression with the analysts covering their space?
Find the relevant analysts for your analyst relations program. You don't need 100 analysts writing about you. And you don't need the big guys (IDC, Gartner, Forrester). You need a few really good friends who have an outlet and a following with your audience.
Focus on building relationships with analysts.
Be transparent. Own your success. Own your shortcomings.
Demonstrate a knowledge of your market (customers, competitors, trends).
Don't expect us to be product experts (if we are, you don't want us writing for you).
Be consistent.
Be in our minds (keep a regular cadence of discussion).

 Back to top
---
Why Analyst Relations Requires a Media Relations Mindset
Many B2B companies realize the importance of implementing an analyst relations program as part of their marketing strategy, however, what they fail to realize is that they need to approach analyst relations with a media relations mindset. As the phrase infers, analyst relations are all about building strong, mutually beneficial relationships with the analysts covering your company's industry. While that may sound easy, it's not – it takes time, research, attention to detail, and a friendly approach to get this right.
Research, Research, Research!
Much like reporters and editors, analysts get just as frustrated when you approach them to set up a briefing with a company that's not in the industry they cover. Analysts get a lot of requests to set up meetings and they also have their own deadlines that they're working to meet for whatever reports, papers or blogs they may be working on at a given time. Cluttering their inbox with irrelevant information doesn't exactly represent you (or the company you're working for) very well.
Not only is it important to understand which industry they cover, but it's also important to know through which lens they cover it. For example, there are some analysts that are more interested in the technical, product-side of things, while others might be more interested in the health and growth of the company. It's important to know the differences in each analysts' area of coverage, as it will greatly impact who you approach to set up meetings for different kinds of company updates. So, much like building a media list, you must take your time and deeply research the analysts you'd like to approach to make sure you're getting it right!
Smaller Analysts Firms Are Impactful Too
When you're deciding which analysts to engage with, many companies automatically think of big, well-known firms like Gartner, Forrester and IDC. And while it's important to pursue an ongoing relationship with these firms for a chance to make it into the Magic Quadrant or the Forrester Wave, it's also equally important to engage with smaller, specialist firms, too. Often, smaller analyst houses are launched by analysts who used to work at bigger firms and have since branched out on their own. These analysts are seasoned professionals, know the industry they cover inside and out, will be more willing to provide honest and sincere feedback, and can engage on a much more intimate level.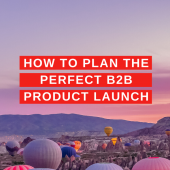 Suggested Post
A targeted go-to-market strategy and B2B product launch plan are critical to success – both short- and long-term...
Read More
Further, many analysts at these independent firms are working to build their own personal brands. Therefore, many of them may publish their own columns at publications you've been trying to place coverage in. You can make yourself a valuable asset to these 'journo analysts' if you bring them resources and insights that help them with the research and reports they're working on, in addition to information that helps them deliver articles for their columns, too.
It's Not All About You!
One major misstep that many organizations make is only speaking with analysts when it's convenient for them. Guess what – no successful relationship building works that way! It's important to engage with an analyst just as often as you would keep in touch with a reporter or editor. Ask them what they're working on, what's interesting to them right now, and what trends they're seeing. The more that you prove that the relationship between you and them isn't a one-way street, they more likely they'll be to tap you and your company for any projects they might have in the works.
While it's important to keep in touch with analysts on a regular basis, you must also be genuinely reliable. If an analyst comes through with a request to receive follow up information, a comment, or additional data, you must be able to deliver or quickly communicate to them that you don't have the information they need. It's never okay to ghost an analyst – they'll remember and will be less likely to come to you again. Like media contacts, they have too much to do and not enough time, so wasting their time or making them chase you down is a big no-no.
A successful analyst relations program requires time, thorough research, and the ability to look outside the wants and needs of your own company to also meet the needs of the analysts you're engaging with. At the end of the day, people – whether that be an analyst, reporter, or editor – get frustrated when they feel like their time has been wasted. We're all busy, so let's come together to help each other reach our goals and get work done.

 Back to top
---
Analysts tips for InfoSec Europe | Bob Tarzey
Infosecurity Europe (aka InfoSec 2018) hits Olympia London next week. We caught up with  Bob Tarzey – IT industry analyst and former director at analyst company, Quocirca Ltd –  for his thoughts on the upcoming show.

 Back to top
---
Analysts tips for InfoSec Europe | Michela Menting
Infosecurity Europe (or InfoSec 2018, as it is more commonly called) hits Olympia London on 5-7 June. As the great and the good of Europe's cyber-security industry look to launch their latest products, we asked Michela Menting, Research Director at ABI Research about what's hot at Infosec 2018 and her tips for making the most of working with analysts.

 Back to top