Get the secrets to running an international PR campaign
China is fast becoming one of the most popular places to do business. As the second-largest economy in the world, the country has seen an average growth rate of 9.52% between 1989 and 2019. The technology sector is booming, and so it's not surprising that more clients are asking us for assistance in the region, as well as support with a global campaign.
For example, China is a priority market for our client Everledger. We recently promoted its series A funding announcement, which was led by Tencent, a Chinese multinational conglomerate that, among many things, is one of the world's largest venture capital firms. Headquartered in the UK, but with American and Chinese interests, we had to bridge the gap between East and West in order to execute a truly global campaign.
But entering the Chinese market from a PR point of view isn't as straightforward as replicating what's worked with Western media. So here are four things to keep in mind in your next global campaign:
---
Facebook? What's Facebook?
With almost 2.5 billion monthly active users as of last year, you'd be forgiven for thinking that Facebook should be a cornerstone of any social media strategy, no matter where you are in the world. But that's not the case when it comes to China, where Facebook, WhatsApp, YouTube and Instagram are all blocked.
But that doesn't mean there's any less appetite for social media platforms. You'll just need to adjust your strategy and get familiar with the local variants such as WeChat, Weibo, QQ, and many more, instead.
---
Don't rely on English getting you places
Brits are famous for not being able to speak a second language, and sadly, we tend to get by assuming that everyone else will be able to speak a basic level of English. However, if you really want to break into a new market, especially one like China which places a strong emphasis on interpersonal relationships, it's imperative that you do so in the local language. This means both Cantonese and Mandarin, and you should be able to distribute written materials in both Simplified or Traditional Chinese where necessary. Not only is it a sign of respect for the local culture, but it's also common sense.
It's also important that you have a spokesperson who can speak the language, as "face-to-face meetings and interviews are key to engaging the media and developing mutual respect", according to our Chinese-based partner agency, TechWorks.
---
Get your timing right
It's generally known that the best time to send out a release is between 8-10am, when journalists are planning the stories that they'll cover that day. But if you send a release out at 9am in the UK, that's 5pm in China, and 4am in New York, neither of which are the best times to get a journalist's attention.
So what can you do?
First, distribute the release at a time that works for the journalist, not you, even if that means pitching the next morning so it hits their inboxes at the right time. Use an agency that has a presence in the region you're targeting, so you have local support and don't need to be up at unsociable hours to ensure your news is being received.
Generally, journalists want to be the first to break the news in their language, so coverage in an English-speaking publication is unlikely to deter journalists in China from covering the story the next morning.
Finally, the best way of guaranteeing everyone gets access to the news no matter where they are in the world, is to pitch under embargo. This gives journalists time to ask any questions, and write up their pieces in advance. They can then schedule them to be published at a time that suits them and their audience, whether that's the time the embargo lifts, or later in the day.
Also, think about your timing in relation to any local holidays that might impact your coverage, such as Chinese New Year or other public holidays that don't occur in the West.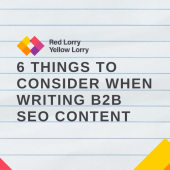 Suggested Post
Writing SEO content is never easy and a lot of the time tips and tricks are geared towards b2c industries, rather than b2b. SEO is a...
Read More
---
Go local
If you don't have your own PR team in the region, you need a local agency on the ground to support your campaign. Whether it's advising on cultural nuances, the political and economic factors that might impact your strategy, connecting you with key journalists, or translating a press release accurately, having experts who speak the language and understand the culture is key.
Our partners at TechWorks say it best: "A local PR partner with long-term experience in China is best placed to understand local markets and provide the know-how required to get results."
If you need our brand positioning, audience engagement or lead generation services in your next global campaign, contact us here. Check out our guide to building global PR campaigns now.
Get the secrets to running an international PR campaign