With the early hype now over, every company or startup in the blockchain industry needs to show its relevance to a broader audience than just the B2B and tech community. In this blog, we share first-hand insights on how companies and startups should communicate in order to make (their) blockchain technology an everlasting hit. Read on to discover the three pillars you need to base your blockchain public relations strategy on right now.
---
Quick Links:
---
Smart contracts & growing a blockchain brand [Podcast]
You don't have to be an industry expert to know that blockchain is currently one of the hottest technologies around. Despite still being in its relevant infancy, it is generating huge investment in all manner of industries and has the potential to be hugely transformative to future business operations.
To shed more light on the growing industry, we spoke to Patrick Degenhardt, head of marketing EMEA at our client ConsenSys. Formed in 2015, ConsenSys is one of the world's leading blockchain software technology companies. It is an incubator for projects and start-ups using blockchain, working with them to provide tangible, real world results.
In just three years it has grown to 1,100 employees worldwide and is a great example of a blockchain success story for any aspiring businesses.
Read on for Patrick's insights on how to market blockchain, the impact of smart contracts on soy beans and how blockchain can help to solve the problems found on a 4,000 year old clay tablet.
The power of smart contracts
Built on the Ethereum platform, smart contracts offer one of the biggest perceived benefits of blockchain technology. The fundamental difference between a 'normal' and 'smart' contract is that a standard contract outlines the terms of a relationship, whereas a smart contract enforces that relationship with cryptographic code.
Patrick went as far as to describe smart contracts as "a fundamental element of blockchain" and explained their benefits through the story of a recently-discovered 4,000 year old clay tablet. Written on the tablet was essentially a complaint from the recipient of a copper delivery that hadn't fulfilled an agreement. The transaction hadn't met the standards outlined in the contract.
"4,000 years ago people were having the same problems that they still do now," Patrick said. "Blockchain came to solve this issue of trust. It creates a technology that doesn't depend on people needing to trust each other, as the underlying technology creates this trust through smart contracts."
So, how do these smart contracts work? In simple terms, they provide an "if, then" function, If I receive X that fulfills certain conditions (quality, quantity, origin etc.), then this amount of money will be exchanged. "It doesn't require any trust in individuals. If the conditions are met then the transaction is processed. It solves a 4,000 year old problem."
That's clearly an extremely compelling use case of blockchain technology but, being self-centered PRs, we wanted to know how it could impact us. Will smart contracts have an impact on marketing and communications?
"They could have," said Patrick. "They will impact any process that has an intermediation, because blockchain can eliminate or drastically reduce intermediaries in a certain process.
Let's take one industry that we are working in at the moment – the commodity trading business, meaning cargo ships transporting tonnes and tonnes of soy beans from Brazil to China, for instance. In order for that process to occur, there is a ridiculous amount of paperwork and people involved just acting as intermediaries. They are not bringing any value to the transaction, they're just taking value. With blockchain, you can disintermediate this. You will still require a number of people in the process, but the way that these people work will be extremely streamlined.

It completely changes the mindset in certain industries and the same thing could be applied to marketing. If you are not creating value through your creativity, connections etc., you are at risk in the future.
That's us warned then!
Making your mark
We also asked Patrick about the biggest blockchain public relations challenges and opportunities for companies in 2019, as well as how start-ups can effectively promote their solutions.
He explained that one of the main challenges at this point is the relative youth of the industry: "Blockchain is still an extremely nascent technology at this point in late 2018. If you compare it with the wider adoption of the internet, it's about 1996 or '97 now for blockchain. The boom hasn't really started. We are building the foundations, we're building the infrastructure and we're making the infrastructure more efficient."
However, this is starting to change. Leading organisations such as Amazon and Microsoft are starting to adopt blockchain tech and, as the industry continues to grow, the key thing for smaller companies to remember is that the customer is key.
You have to really understand your end user, if it's a b2b company or a b2c solution. You have to really think about the user experience and develop your project around this.

To me the fact that it's created on the blockchain is, to a certain extent, less relevant than the solution the company is bringing. If we take the cargo ship example, whether the solution runs on the blockchain or not, all that matters is that it reduces the time for the transaction to happen from weeks to minutes. That's the real, tangible benefit.
So, there you have it. If you're a company using blockchain and you want to expand your reach in 2019, don't get caught up in the technology. Make sure you remember who your audience is and lay out the benefits that you're bringing to your customers.
Listen to the full podcast to hear more valuable marketing insights from Patrick and find out what it's like to work at one of the world's leading blockchain organisations.
Remember 2017, the year everyone was talking about blockchain and Bitcoin, even Joe Bloggs? Yes? Well, times have changed. People, meaning mostly journalists and influencers — we are here to talk about PR, after all — have turned their attentions to AI (again) and are no longer interested in just talking about blockchain for the sake of it.
But why is this? The main reason is that most people now understand the broad concepts of blockchain technology. They know it is complex, life-changing, disruptive, revolutionary, and that you could have become super rich if you had bought the right cryptocurrency five years ago (and not as rich if you kept it in 2018). The initial hype has died down, meaning conversations need to progress.
Now that the bubble is beginning to burst, it's actually a good time for many blockchain companies and startups to get going with their blockchain PR. Quite simply, the question of what to make of cryptocurrencies and blockchains, as The Economist puts it, for example, is now arising more and more.
---
Blockchain public relations: Getting over the hype with the right approach
So, the challenge now is to show why your blockchain company or startup is here to stay. In other words: People need to see how blockchain technology can change their life or the lives of others. And not only in five or ten years time, but today, this year or next year.
(If you haven't already, this is the perfect time to read the book 'Crossing The Chasm' by Geoffrey A. Moore. It's a must-read for every marketer and PR professional in high-tech industries and demonstrates how you can take a new technology from innovators and early adopters to an early and then late majority market. This is exactly the struggle within the blockchain ecosystem right now.)
Let us make it simple here and apply a straightforward but effective ingredient to your blockchain public relations strategy: Storytelling.
'Really? That is too simple', you may think. But read the following three tips — we call them the key pillars of every PR strategy for blockchain companies — and see how storytelling is the connecting element between all of them:
EDUCATE about the problems inherent in the most common (Web 2.0) technologies/systems/platforms used today, the causes and the ideal state, which can be built on blockchain technologies. (And, of course, the basics of blockchain still need to be explained.) Check out the video below by our client, Consensys:
Think of this as the part of your blockchain public relations strategy that demystifies blockchain to reach a wider audience. Besides the standard public relations repertoire (press releases and pitches for general/specialised outreach, bylined articles for thought leadership), our tools of choice are:
Offline events, like a small meetup with a group of journalists, not only from Financial Times, The Economist, CoinTelegraph or Coindesk, but also mainstream outlets like BBC, Forbes and The Times, to exemplify and discuss use cases for blockchain technology;
Online events, like webinars/live-chats for a) media representatives and business influencers who lack the time to travel to events outside their offices and b) potential users/customers;
Dedicated one-on-one briefings (online or offline) with journalists to give them the chance to understand the complexity of blockchain and the role your company/startup wants to play in the ecosystem.
One other option is to serialise educational content. Perhaps do a regular podcast or a series of educational YouTube videos? Either way, PR can support you in developing the right strategy and messaging for owned media.
SHOWCASE the solutions you are developing based on blockchain technology. That's what we are helping ConsenSys to do. The company is a global formation of more than 1,000 technologists, entrepreneurs and developers building the infrastructure, applications, and practices that enable a decentralised world. With its 50+ running projects, ConsenSys has a huge pool of stories to tell.
By showcasing not only what you are doing but also who is doing it, you give complex blockchain technology a friendly face — someone that people can relate to. Also, when combined with the educational part, organising a meetup together with other players in the industry, just like the Berlin-based startup Centrifuge did, will help people to connect the dots.
Every blockchain company is covering at least two areas of potential (media) interest: 1) the tech/blockchain industry and 2) the sub-industry they are operating in. Adding local interest or meta topics provides a lot of angles for blockchain public relations.
INSPIRE journalists, influencers, potential users and customers by presenting not only a vision of the (near) future, but also by making information/products/services easily accessible. When you're planning to pitch a story to journalists, for instance, think of writing a newsletter and ending it with a call-to-action like 'click here to find out how to get started'. Also, as inspiring as a written article may be, make sure to use the right people in your company to tell the stories over different channels — including video in your toolset is key!
'Why is it important to inspire', you ask? Well, think of 'artificial intelligence', the other hot topic at the moment. If asked what it means or what's behind this term, nearly everyone will have something in mind and can answer more or less adequately, because people can relate to both, 'artificial' (as the opposite of 'natural') and 'intelligence'. Now step back, leave your filter bubble and ask: what's 'blockchain'? Yes, it is, simply said, a chain of blocks — but what does that mean?
Long story short: It takes more basic knowledge to understand the advantages of blockchain technology — this is something a proper blockchain PR strategy needs to take into account. If you try to address people who interact with more mainstream media, you need not only to explain things, but also to inspire, so that people see what they can do thanks to your product/service.
A simple formula for blockchain storytelling:
Begin with a problem your target group knows about (e.g. a lack of data sovereignty)
Explain what causes this problem (architecture and business models of online platforms in web 2.0)
Describe what an improved/the real condition should be like (everyone really owns his/her data and can decide who's allowed to use it)
Outline what solution you have to offer (such as uPort, an open identity system for the decentralised web)
Add a call-to-action (ask yourself who's in control of your data/learn more/join the community).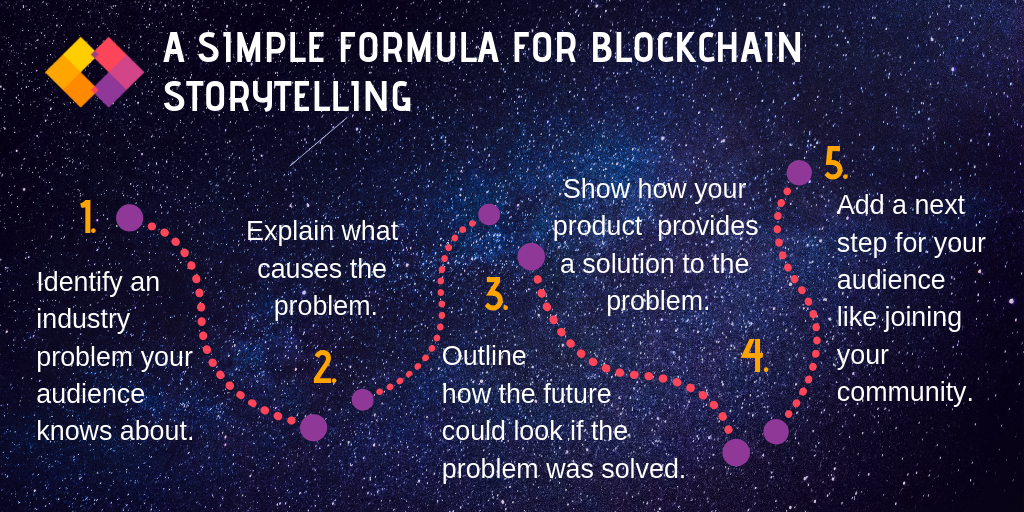 Communication, the P2P way: Social Media and messengers
As blockchain is all about turning centralised transaction processes to more decentralised ones, the envisioned updated world will rely on peer-to-peer actions and networks. Taking this into account for your blockchain public relations strategy, you need to communicate person-to-person (P2P) as well, especially if you want to get in touch with the tech community and/or an interested and supporting crowd of people from the early majority.
That means you should not only use social networks like Twitter, Reddit or LinkedIn, but also messengers like Telegram or — for earning real credibility in the Ethereum community — Status. And as everyone is using Slack and reading newsletters in the tech industry, go use these tools and #BUIDL your community!
Do you need support in developing and executing a proper PR strategy for your blockchain company/startup? Drop us a line today: hello@rlyl.com.