If there's one thing we can all agree on, it's that the blockchain landscape is a noisy one. Almost every technology company on the market is talking about the benefits of blockchain – even though many of them don't actually have any active blockchain solutions or any plans to unveil one anytime soon.
This clamour to establish share of voice in the space has primarily been driven by the massive hype around bitcoin and the possibilities of adjacent market opportunities. This reached a crescendo at the end of 2017 when the price of bitcoin soared to nearly $20,000 and, although the hype has since died down somewhat and the value of cryptocurrencies has diminished, blockchain technology and cryptocurrencies are still dominating conversations around the world.
Meaning, those businesses that do actually have viable blockchain solutions have to find ways to effectively navigate this noisy landscape to make sure their solution gets the attention it deserves.
There's also the issue of the confusion attached to how the technology actually works. The mere mention of the word 'blockchain' causes many people to either switch off or just smile and nod along with the conversation. However, with the potential to transform the way we live and work, enterprises cannot afford to not understand the transformative power of blockchain anymore.
With all this in mind, we've put together some tips to help technology companies cut through the noise in what is becoming an increasingly crowded market.
Business first, technology second
As we've already mentioned, blockchain is a complex subject, requiring a certain degree of technical expertise to understand. But, focusing too much on the technology itself could result in alienating a significant portion of non-technical potential users. After all, the reality is that many of the so-called 'industry experts' don't fully understand how blockchain technology works and its current capabilities, so how can you expect everyone else to?
Instead, you should concentrate on the business side of blockchain, i.e. the business problems that it solves. The goal with this approach – commonly known in the PR world as 'storytelling' – is to highlight the common issues that companies are coming up against and position your product as the solution to those issues.
For example, our client Gospel Technology talks about how many businesses struggle to find the right balance between making important information secure and accessible – both internally and externally. For these businesses, the only way to secure data is to restrict access, which inadvertently impacts business agility and collaboration negatively. Gospel's approach and the way it talks about its solution is completely different. The focus is on embedding security at a data level, underpinned by blockchain, which makes it easier to share confidential information in a secure manner, without losing control of it.
The key thing to remember is that the business solution takes priority, with the technology message coming after, blockchain simply facilitates this solution. This business case point of view appeals to a much wider audience, as potential customers quickly understand how blockchain can help them without having to start with getting their heads around the technical details.
How are you different from other blockchain solutions?
With so many businesses claiming to be developing 'the next big thing' in blockchain technology, understanding – and effectively communicating – your unique differentiator will be vital to standing out from the crowd of blockchain solutions.
So, before embarking on any PR or communications campaign, you have to take the time to nail down exactly what it is that sets you apart. This starts by evaluating the competition and answering questions such as: what markets are they targeting? what is their product offering? Do they understand their markets?  How are they funded (VC, PE, ICO, ITO)?
Going through this process will help you understand your own business – the things you do better than everyone else and the areas you could improve – and enable you to identify your key USP(s). It might be superior to other blockchain solutions, an ability to integrate to existing environments, an ability to quickly adapt to changing customer demands or a technological advantage. Whatever it is, know what makes you different and talk about it!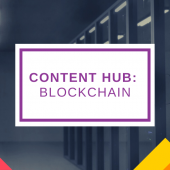 Suggested Post
With the early hype now over, every company or startup in the blockchain industry needs to show its relevance to a broader...
Read More
Find your audience and connect with them
With the blockchain industry growing at the rate it is, getting your message in front of the right people will be key to ensuring future success. After establishing exactly who these people are – e.g. those responsible for IT/data security at businesses with more than 250 employees – it's vital that you understand as much about this audience as possible.
Identifying the people who are most likely to care about what you have to say, who drives the business decisions, and understanding exactly what will appeal to their needs, will go a long way towards helping you establish a community of potential leads.
The focus then should be on properly connecting with this audience on a human level rather than purely a technical one. Build conversations by creating informative content around the major challenges facing businesses – e.g. maintaining control of corporate data – and offer advice to position yourself as an educational resource. This will help to engage the right people, especially those identified earlier that profess to knowing about blockchain, and those who are looking for real business solutions, but looking for guidance. This will enable you to elevate your business above the noise.
Provide practical use cases
Our final tip is to provide your target audience with real life examples of how your blockchain solution has helped other businesses. This could involve writing case studies of the work you have done with other companies, so that potential customers can get a practical understanding of your capabilities.
It's also important to avoid too many 'hypotheticals'. Customers don't want to know what you might be able to do for them, they want concrete examples of how you can solve their problems and make their lives easier.
Remember, change won't happen overnight. It takes time to build a dominant share of voice. But, by taking these four tips into consideration, blockchain businesses can appeal to a wider audience, get a head-start on their rivals and – most importantly – get themselves heard.
Do you need support in developing and executing an effective PR or marketing strategy for your blockchain company/startup? Get in touch to find out how we have helped our existing clients, Gospel Technology, cut through the noise and build traction in within the industry: hello@rlyl.com.
Want to stay up to date with our latest content? Sign up to our newsletter now.