The world of enterprise IT PR is a complex, ever-changing environment, with businesses today facing a host of challenges when it come to their PR and marketing efforts. For example, the gap between how businesses want to be perceived, what their customers want, and what journalists want to write about can make it difficult for businesses to know exactly where to focus their PR efforts – particularly with so much competition in the market.
What's more, the growing influence of digital is changing perceptions around PR. It's now about so much more than just coverage, prompting businesses large and small to focus more on lead generation and education around how their products solve industry pain points rather than just brand awareness. This is linked to the b2b sales cycle, where factors such as third-party validation play a key part in people's buying decisions.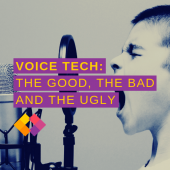 Suggested Post
Ever since Alexa and other voice assistants burst onto the scene, brands have been searching for ways to leverage the technology...
Read More
With all this in mind, we sat down with London lorry and client director Emma Davies to talk about all things enterprise IT PR in the latest Talking TechComms podcast. Click the link below to listen to the full podcast and find out how businesses today should be approaching PR and marketing in order to make the most of their investments.
To find out more about how we can help your enterprise IT company through our PR and marketing services, drop us a line at hello@rlyl.com or visit our Contact Us page.
The Talking TechComms podcast can now be found on Spotify and Anchor.fm, with other platforms coming soon. Please make sure to like and follow for more content!
Follow us on Spotify