Last year was a good year for Instagram. Despite its co-founders Kevin Systrom and Mike Krieger leaving the company due to rumoured tension with owner Facebook, the world's leading photo and video sharing app reached one billion monthly users. Couple this with the launch of vertical video platform IGTV, and integrations with Spotify, GIPHY and GoPro on Instagram Stories, and it's clear how Instagram earned its place as one of the most advanced social networking apps ever. Not bad for only being eight years old.
During its short life, Instagram has proven itself to be an effective brand builder. In what I like to describe as an extension of your website, a brand's Instagram profile opens the window to what makes the brand: the people, the product and the philosophy. No other social media profile captures the three P's together as well as Instagram can. And with the need for transparency and accessibility in today's dynamic marketplace, Instagram has grown to become a popular tool in creating meaningful brand-consumer relationships. As the saying goes, a picture is worth a thousand words.
Unchartered territory 
From seeking fitness, travel and food inspiration to watching live updates from your favourite sports team, people's motives for using Instagram have evolved. While we still use it to catch up with our friends and family, more of us are opening the app to engage with brands we're loyal to – and to discover new ones.
Fashion, music, beauty, publishing and lifestyle brands are the ones thriving on Instagram. Their frequent postings of celebrities, luxurious products and exotic locations are content subjects that followers gravitate towards (guilty). But as we robotically double-tap through our feeds and stories, ogling over outfits, destinations and friend's dogs (again, guilty), we're looking for something new to take our interest.
In the business world, Instagram for b2b brands is still relatively uncharted territory. Apart from personal profiles, Instagram's terrain is currently dominated by consumer-facing brands. However, who's to say that's a reason why other businesses shouldn't jump on board? As Instagram enters a new era with long-form content on IGTV, polls on Instagram Stories, 'shoppable' posts and more, business on Instagram has never been more fruitful.
Instagram presents the opportunity to elevate a brands profile. In fact, it's something we've recently decided to explore as an agency and have had a lot of fun doing so.
So, without further ado, here are five reasons why brands should test the waters of Instagram for b2b and switch up the norm:
Inspire creativity
Most of us open Instagram out of boredom with the urge to be entertained, which is why it's a great platform to showcase creativity.
On Instagram, creativity can be executed across two of its functions: design and content.
In today's brand landscape, creative design goes beyond a brand's logo. Colour schemes, typography, photography style, video editing and filters are all essential ingredients in the brand-building recipe. Content needs to not only look good as people scroll through their feeds, but also when they click on a brand's username.
With the same grid-style layout on everyone's profile, it's important to inject some creativity into the way it's designed to make a brand memorable. As well as attractive high-res imagery, simple hacks such as applying a consistent edit across posts, displaying and photographing products in a non-traditional way or adding an on-brand border like we have, can help you stand out from the clutter and leave a lasting impression on followers and passers-by.
Without content, Instagram would not exist. But without head-turning, creative content, Instagram would be useless. Delivering a creative Instagram campaign can not only make new prospects and recruits take notice, but also inspire in-house creativity. For example, posting a mini video series or rolling out something more long-term like a weekly themed Instagram Story can help you think of new and innovative ways to position your brand to the public.
Discover new business, and vice versa
Ever stumbled across a profile on any social media site and wondered, 'how on earth did I end up here?' Thanks to location tagging, hashtags, the Explore page on Instagram and a generous helping of procrastination, users can come across Instagram content very easily. Some of these people might simply be lost, while others might be potential prospects – especially when you tag a post from an event you're attending. With a company's contact details visible on a business Instagram account and its direct messaging tool easily accessible, brands can improve their accessibility and discoverability for new business, as well as keeping an eye out themselves.
Assist with recruitment
For job-seekers, the ability to go behind-the-scenes of a company is a rare gift. Not only does it give applicants insight into the culture, work and people, it also helps them decide if it's the right place for them – even if the picture of twenty-four original glazed Krispy Kremes helped them reach that decision. And with Instagram stories, IGTV and video posts, there are more opportunities to share insightful, quality content that will draw job-seekers in.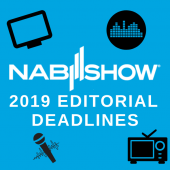 Suggested Post
In just over a month, the media and entertainment technology industry will converge on the entertainment capital of the...
Read More
---
Increase transparency
Let's face it: giving the public a glimpse behind your business's closed doors is a risk, especially online where, as the saying goes, mountains can be made out of molehills. While it's important to not overshare, it's also important to share something.
Brand transparency is important for reasons such as building trust and empowering customers. It holds the key to forming loyal long-term brand relationships.
Because of Instagram's many opportunities to disclose brand information – including the caption, bio, live updates on Instagram Stories and the picture itself – brand transparency is essential. There's more room for error. More content to scrutinise. And more gaps to fill with authentic content that's consistent with company messaging and branding. You only need to watch Fyre: The Greatest Party That Never Happened on Netflix to find out why brand transparency on Instagram is so important in today's digital age. People are not fooled anymore by vague corporate speak (and models on yachts in the Bahamas), which seems like it's masking more than what meets the eye.
But there's also a lot of room to get it right and generate great results in terms of raising brand awareness, engagement and sentiment.
So, what does this mean for brands using Instagram for b2b purposes? Despite growing scepticism among its users, b2b brands shouldn't shy away from being transparent on Instagram as it makes the spotlight shine brighter. Share more pictures. Be articulate in what you say and post. Be honest and open with your followers by posting insightful imagery. And don't be afraid of showing what goes on inside your office.
Which leads us to our final reason…
Uphold company culture
For some b2b brands, culture is at the core of their operation. And Instagram is the perfect channel to strengthen it. Employees can personally interact with the content by liking, commenting and tagging the company's profile in their own content to really maximise brand exposure. And its visual nature enables brands to focus the lens on what they stand for in a more interesting and engaging way.
Posting images which reflect a company's culture, from fundraising events to company milestones, demonstrates a high degree of brand transparency, originality and authenticity. It gives the public a glimpse into life behind the brand which, if done tastefully with high-quality content, positively resonates with followers and passers-by.
We're passionate about our culture and Instagram is a good place to capture it, not only for us to develop it, but also for new prospects and recruits to differentiate us. With little to no transparency or insight into our culture, our profile would be pointless and boring. And we're definitely neither of those things.
Follow us on Instagram to see what we've been up to @redlorrycomms.
Want to find out how we can help you with marketing and PR? Drop us a line at hello@rlyl.com or visit our contact us page.
Don't forget to sign up to our newsletter to stay up to date with our latest content.