Social media is an ever-evolving and increasingly influential component of b2b PR and marketing.
In 2019, social media and digital marketing professionals are competing in a more saturated space than ever before, and the need to stand out is at the forefront of everyone's minds.
With so much competition hindering visibility, b2b social media marketing has become a lot more complex than simply posting to the major platforms, sending out ads and cultivating an online presence.
So, how can businesses make the most of social media marketing in 2019?
---
The war of the platforms
In today's social media marketing landscape, marketers have a whole host of tools, services and platforms at their fingertips. But this can be both a blessing and a curse! It can be difficult to know which platforms to invest the most time in and understanding the nuances of each isn't something that can be picked up overnight.
LinkedIn and Twitter have historically been the most valuable channels for b2b social marketers, but that's not to say other platforms can't also prove useful in a business context. The landscape is ever-shifting, as old platforms die out or lose sway and new services enter the field.
B2b social media marketing also differs between geographical regions. For example, in the UK and US, LinkedIn and Twitter are by far the most influential b2b platforms. However, if you look further afield to countries such as South America and Israel, businesses tend to lean much more heavily on Facebook, specifically for its Groups feature. For companies in these geographies, creating a Facebook group and building an audience within it has proved an extremely effective marketing tool.
---
LinkedIn 
In recent years, we've seen a significant shift in the way companies are using LinkedIn. In 2019, the emphasis is on the individual, rather than the business.
LinkedIn's algorithms work to reduce the visibility of company posts in favour of the individual and, as a result, personal branding and employee advocacy has exploded on the platform. Many businesses are now funnelling resources into developing the followings of their spokespeople and marketing through these personal networks. After all, positive sentiment expressed by an individual, even if that person is directly affiliated with the company, carries far more weight than an identical post on a corporate page.
As a bi-product of the shift towards a more personal approach, the kinds of posts that generate the most interest has also changed. Today, the corporate posts that receive the most attention are those that showcase a company's culture or its participation in a corporate social responsibility (CSR) initiative, for instance. LinkedIn represents a great opportunity to demonstrate not only the value a business delivers to clients, but also to broader society.
That said, it's important that if a company intends to take a stand for a social cause, it does so with authenticity. For example, swapping in a rainbow version of the company logo for the duration of Gay Pride Month is all well and good, but it's ultimately a superficial gesture. If a company attempts to leverage a social cause to sell its products, as opposed to contributing to genuine change, it's likely to alienate a significant portion of its potential customer base.
---
Twitter
Twitter has long been a platform that marketers have businesses have attempted to exploit. According to the most recent figures, Twitter has 321 million active monthly users, 126 million of which use the platform daily. This means businesses are faced with the challenge of cutting through an enormous amount of static.
The good news is that there are a number of strategies social media marketing professionals can use to give their businesses the best chance of being heard:
Post volume
It's important to ensure a company maintains a regular post volume and cadence. The lifespan of a tweet is extremely short, so if someone doesn't see a piece of content immediately after it's posted, it's likely they won't see it at all.
The key is to strike a balance between maximising content reach and ensuring the volume of content doesn't aggravate followers.
Two-way engagement & social listening
Twitter isn't just about pushing out company content, but also about engaging with the content of others. One way to build credibility is to engage consistently with influencers, analysts and journalists on the platform.
Using a tool like Hootsuite, brands can monitor the ongoing conversation around a certain topic or keyword. This can be useful when identifying the kinds of conversations taking place and provides a great avenue through which a brand can engage with sector-relevant individuals.
Content balance
It's tough to put a precise figure on the ideal split between pushing out company content, sharing relevant content from third parties, and conversing with other members on the platform.
As a rough guide, we would advise aiming for 60% company-owned content, 40% curated content, and to engage with other members of the platform alongside this.
---
The b2c platforms: Instagram, Reddit and messaging apps
Though LinkedIn and Twitter lead the way for b2b social media marketing, Instagram and Reddit have also begun to draw the watchful eyes of marketing pros.
In 2019, 57% of b2b marketers plan to use Instagram, and for good reason. With an average of 4.2 billion likes per day on the platform, it's not difficult to see why b2b companies are interested in a slice of the pie! The visual platform is already being used to showcase company culture and aid in recruitment efforts, as well as to promote physical b2b products.
Reddit, on the other hand, has proved a challenging and elusive platform for b2b marketers. Lorry digital specialist Jackie Blundell describes it as the "Wild West of the Internet". B2b brands are often advised to steer clear of the platform, primarily because of the audience's hostility to corporate spokespeople and content. Reddit is certainly a tough nut to crack, but the passionate nature of its members means organic product advocacy can go a long way.
Messaging applications such as WhatsApp and Telegram are also being utilised by some businesses, with users opting into news blast style alerts. Instead of happening across a post in a social feed by chance, content is delivered directly to the individual's phone in the form of a notification. While this variety of marketing is very much in its nascent stages, it could be set to play a much larger role in b2b social media marketing in the years to come.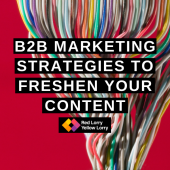 Suggested Post
Times have changed incredibly quickly when it comes to the types of content we now consume on a daily basis. Whether...
Read More
---
Video marketing: Ready, set…ACTION!
Now we come to the content itself. As a rule of thumb, the more interactive and visually appealing a company's social media content, the higher the level of engagement it will achieve. Everyone enjoys having something interesting to look at, so video should be a central component in any b2b social media marketing strategy.
Some businesses shy away from video content, under the impression that deep pockets and specialist expertise are required to produce content of acceptable quality. While this may have been the case a few years ago, the same doesn't apply today.
Video content doesn't have to be polished to perfection. So long as the audience can clearly see and hear the spokesperson, the quality of the video will be good enough to distribute via social channels—most modern smartphones can do the job. Putting out a short, modestly produced video of a spokesperson talking about a specific topic, especially if it's tied to the current news agenda, will yield far better results than a simple text-based post ever could.
When it comes to b2b video content, it's also a case of the shorter, the better. In today's digital climate, we're all bombarded with stimuli and only have a limited amount of time and attention to allocate to a piece of content. Top optimise engagement, video content that's 30 seconds to two minutes in duration is ideal.
So, for the best social media marketing results:
Play to the strengths of each platform
Embrace multimedia
Have a specific objective in mind
Do everything with authenticity
Remember that behind every phone or computer screen, there's a person like any other
---
In the latest episode of Talking TechComms, London lorry Dan Simpson and Boston lorry Jackie Blundell, along with host Sam Pudwell, discuss the b2b social media marketing landscape in 2019. They delve into how things have changed to date, and what we can expect from social media marketing going forward.
To find out more about our PR and marketing services, visit our contact page or drop us a line at hello@rlyl.com.