Artificial Intelligence (AI) has been the subject of both fear and fascination in movies, TV and books for many years, but has just recently become a practical reality for b2b PR professionals. It's no secret that AI is positioned as being the next "big thing" in PR (as well as a host of other industries), but what exactly does this mean in the grand scheme of things?
Basically, it means we can do our jobs better and more intelligently. We're now able to use AI-powered marketing technology to analyze a literal ton of data and use that information to better position our clients and their brands. For example, media monitoring tool Signal AI uses an AI martech platform partnered with machine learning that can be trained over time to recognize brands, companies and keywords to provide relevant and highly accurate results.
Of course, there are many more examples of what AI martech can do for PR and monitoring. So, we've laid out the top three aspects below that we feel are the most beneficial to our business.
Competitive analysis
Monitoring your brand's competitors is one of the most important aspects in your overall PR strategy. Keeping abreast of what your competitors and their customers are doing and saying, along with which publications are writing about them, helps your brand know where it stands. It can also make it easier to decide on the best next move to take.
With AI, we're able to monitor and analyze relevant, detailed results and even break down the competitive analysis into a specific segment or product line. This could be the difference between getting a leg up on the competition, or falling further behind.
Detecting sentiment
AI is so much more than just emotionless data. It has the ability to determine the overall sentiment of a mention or article by analyzing digital and traditional media, and some tools can even detect sarcasm. Armed with this information, we're equipped to better understand where public opinion lies for a specific product, or a brand as a whole.
This information helps those working within b2b PR to pinpoint problem areas and guide clients when it comes to addressing issues surrounding their brand. On top of this, we can also leverage positive sentiment to better position brands and help them achieve their overall objectives.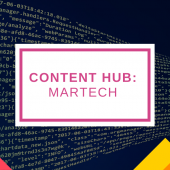 Suggested Post
Martech is moving fast. New channels have emerged, customer behaviours have changed and competition has intensified...
Read More
Determining trending topics
AI and machine learning are able to analyze chatter and determine the popularity of certain topics or phrases being discussed by a brand's target audience. This allows brands and PR professionals to see what is being talked about and keep on top of emerging trends within their industry.
This is not only helpful when planning PR campaigns, but also when developing fresh thought leadership pieces and attempting to position brands at the forefront of their industry.
AI is transforming our industry by enabling us, through the use of marketing technology, to gain deeper insights into our audience while providing hyper-personalized data for clients. We've only just begun to reap the benefits of what AI can do for us and can look forward to more accurate and personalized insights for our clients in the very near future.
---
To find out how we use AI martech in our PR and marketing services, drop us a line at hello@rlyl.com or visit our contact page.