Find out about Convoy – our global PR network
B2b public relations is a game played differently in each and every region, which can cause problems for businesses as they expand.
In the latest edition of our 'Myth-busting PR' series, we dive into the nuances of the Japanese marketing and media landscape. Providing us with local insight is Tokyo-based Yukiko Harada, managing director of boutique communications agency TrainTracks – part of our global PR network Convoy.
Read on to find out what she had to say about the importance of region-specific content, the issue of translation, the perfect pitching strategy and much more.
What are the key regions in your market?
In Japan, Tokyo dominates the media landscape. All key national, b2b and tech media are based in Tokyo or its immediate vicinity.

Besides the capital, Osaka, Fukuoka, and Nagoya all have a media presence, but publications in these cities are typically concerned only with local or regional topics.
What are the common misconceptions around doing PR in the Japanese market?
In many cases, global companies attempt to bring over pre-existing content from other regions and lever it into the Japan market. They don't tend to come armed with anything that relates specifically to the region, which is a mistake.

Campaigns specifically relevant to Japan are much better received – journalists love original content. If this isn't possible, it's important to at least add some sort of local flavour to ensure the media's interest is piqued.
What are the key challenges for businesses trying to do PR in the Japanese market?
In Japan, journalists tend to change jobs and beats relatively frequently, making it hard for tech businesses to build up a rapport with any given journalist. One day, a journalist could be heading up the agriculture division, and the next be tasked with writing about enterprise IT!

Japanese journalists are mostly generalists and write about a huge breadth of topics, as opposed to specialising in a particular niche. This generally results in a lack of specialist knowledge and means companies are tasked with educating the press about the broader technology, as well as the nuances of their own products and solutions.

The way features are selected and produced in our region is also slightly different. When it comes to features, the topics are dictated by publications' in-house editorial teams, who will then employee freelancers to execute. Unlike in other regions, it's not common practice for freelancers in Japan to pitch or decide feature topics – unless they're extremely highly regarded!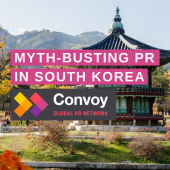 Suggested Post
So you've conquered Europe, your brand's a household name in the US and now it's time to expand your PR and marketing activities...
Read More
When pitching a journalist, is it important to pitch in the local dialect?
Businesses setting out on a b2b PR campaign in Japan shouldn't expect journalists to take briefings in English. It's expected that international businesses hire a professional translator for these occasions, which can be expensive – we're talking around 600USD per half day.

The spokesperson doesn't necessarily have to be from the region, but journalists typically prefer face-to-face interviews, which means it's important to have a spokesperson on the ground in Tokyo. Any C-Level executive or regional director can be used as a mouthpiece for the business, provided they have a story to tell and an interpreter to assist on the day.
What type of social media platforms are typically used by b2b audiences in your region?
Unlike in the UK or US, LinkedIn isn't used as a b2b marketing tool – it's almost exclusively used for networking. It's possible that LinkedIn will further penetrate the Asian market in the future, but for now, it's not a prominent platform.

Twitter and Facebook are the tools most commonly utilised for b2b social media marketing in our region.
What services or skills should you look for in a PR agency in your region, and why is it important to use a local PR partner?
Businesses attempting to break into the Japanese market should look for an agency that is equipped to provide local business advice, as well as PR and brand strategy.

It's also important that the agency understands business protocol inside out, which is where working with a local partner can make all the difference.
To find out more about Convoy, our global PR network and the members of it, drop us a line at hello@rlyl.com or visit our contact page.