Sign up to our newsletter for PR and marketing tips
By now I'm sure most people have seen the news that Mobile World Congress (MWC) 2020 – one of the biggest technology trade shows and the world's largest exhibition for the mobile sector – has been cancelled.
This decision comes on the back of a tough few days for the show's organiser GSMA in the build-up to the event. Concerns around the Coronavirus saw a whole host of big names pull out, spearheaded by LG and quickly followed by the likes of Amazon, Intel, Sony, NVIDIA and Ericsson.

This prompted GSMA to pull the plug on the whole thing, with CEO John Hoffman saying: "the GSMA has cancelled MWC Barcelona 2020 because the global concern regarding the coronavirus outbreak, travel concern and other circumstances, make it impossible for the GSMA to hold the event."
Without wanting to delve into the politics of whether this was the right decision or what it means for the industry, this all got me thinking about what brands can do if they can't get to a technology trade show. From a PR and marketing perspective, what are their options?
Not wanting to steal all the limelight, I've roped in a few other lorries to help me answer this important question.
---
Let's get digital
Although there's plenty of debate around the value of technology trade shows, the truth is that they still present a great opportunity for brands to get in front of the people that really matter to them. But, as senior account manager Jacob Greenwood explains, the battle to stand out and gain visibility doesn't just take place on the show floor:
Social media has created a new dimension around shows and with plenty of chatter on event hashtags, they have become a perfect focal point for campaigns targeted around events. What this also means is that brands don't physically have to be at the show to join the conversations surrounding it.

This also works in-terms of PPC campaigns that can target both the location of the user and determine interest if they are using the show's hashtags. The aim of the game is to make your brand visible to as many people as possible, so causing a stir around the event will certainly turn attention to the message or product being promoted.
The value of covering multiple channels and running PPC campaigns is echoed by account manager Rebecca Burgess. Although this should be part and parcel of any brand attending a technology trade show, it's especially important for brands not in attendance:
Ensure you don't go quiet by keeping your website content, social channels and news pipeline active and steady. Not turning up to a trade show which you're expected to be at may make people switch off from your brand. That's why it's important to make your brand visible in other ways so you remain present.

If you have budget and a sizeable customer database on LinkedIn Sales Navigator, conduct a PPC campaign where you can promote your content on your prospects' feeds. Content could be a whitepaper, solution brief or case study – something which will be beneficial to the customer and their business.
---
Create a buzz
What if a brand doesn't have budget for a PPC campaign? There's still plenty that can be done on social media to generate conversation and stay in the minds of media, prospects and customers, as our director of North America Meredith L. Eaton explains:
Definitely still capitalise on the social media chatter around the event. If there are conference hashtags, be sure to participate. And, if any of the keynotes, workshops or panel presentations are being live-streamed, used that as a chance to follow along, contribute thoughts on Twitter and perhaps even put out a blog with your own opinions.

You can also up your social media game by creating more of a reason for people to engage with you – perhaps with a contest or giveaway. We do this with many of our clients – from helping set the terms and conditions, to drafting and posting the promotions, to sending out the prize – and it's always a great boon for their social engagement!
But remember a successful social campaign won't happen by itself – it requires careful planning and execution. Brands have to take the time to research the hashtags and speakers beforehand, create content in advance and be on hand to engage with key topics in real-time.
---
Add a personal touch
With technology trade shows being all about building relationships and establishing human connections, getting personal with your PR and marketing can be a great way of making up for any non-attendance – or cancellations.
For example, why not go and visit customers at another time? Or place more emphasis on contacting prospects directly with targeted content, as opposed to sending out generic marketing and hoping some of it sticks. Rebecca Burgess has the details:
Plan a road trip for another time in the year where you can go around the world and meet local press and customers – a much more personal way to nurture your relationships and build new ones. Make sure the right brand representatives are there, whether that's your CEO or CTO, to demonstrate your commitment to the people you're meeting.

Or, start building relationships with potential customers by sending them targeted LinkedIn InMail's with an educational piece of content, offering up a call, product demo, or meeting in person to discuss it further. While it might not show tangible results right away, this an effective way of demonstrating that you're willing to respond to the prospect's business needs and grow your network in the long-term.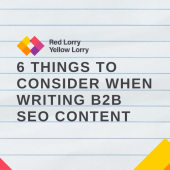 Suggested Post
Writing SEO content is never easy and a lot of the time tips and tricks are geared towards b2c industries, rather than b2b. SEO is a...
Read More
---
Think outside the box
Finally, don't be afraid to try something new and unusual, something our very own Meredith L. Eaton has some rather unique experience of:
I once had a client who broke his leg and couldn't attend a major industry event at the last minute. So, instead, he got a friend to hook up an iPad to a rolling stand and wheel him around the show floor! Just imagine Sheldon from The Big Bang Theory and his virtual device experience. This in and of itself is sure to get a lot of attention and may do wonders for your brand awareness without a huge investment.
This type of stunt will, of course, require a bit more planning but thinking outside the box with your PR and marketing in this way could help a brand become the talk of the trade show – even if it's not actually in the room.
---
Do you need help planning your next technology trade show visit? Get in touch to find out how we can help you with your brand positioning, audience engagement or lead generation needs.
Sign up to our newsletter for PR and marketing tips