Download your free guide to international PR success
With so many conversations taking place on networking platforms like Facebook, LinkedIn and Twitter, social media is now a critical component of every PR and marketing campaign. This is today as true for b2b brands as for b2c ones.
But there is 'no one-size-fits-all' social solution. This makes it very challenging for brands running international campaigns. Different regions use social media in very different ways. And many countries have their own networks that aren't used elsewhere.
As part of our myth-busting PR series, Evgeniy Katusha from our Russia-based Convoy agency partner ContActive explains the key social media trends global brands need to be aware of.
---
The explosion in internet use has directly contributed to the growth of users and social media in Russia. In January 2020, there were more than 4.5 billion active internet users, representing 59% of the total Russian population.
And the use of mobile phones to access the internet is burgeoning. According to a PwC forecast, the mobile internet penetration rate in Russia will be 85% by 2023, and the percentage of mobile traffic related to total content consumption will reach a staggering 92% by 2023.
A significant proportion of this traffic goes towards social media, with many of the most dominant platforms unique to Russia. The distribution of social network users across Russia is as follows: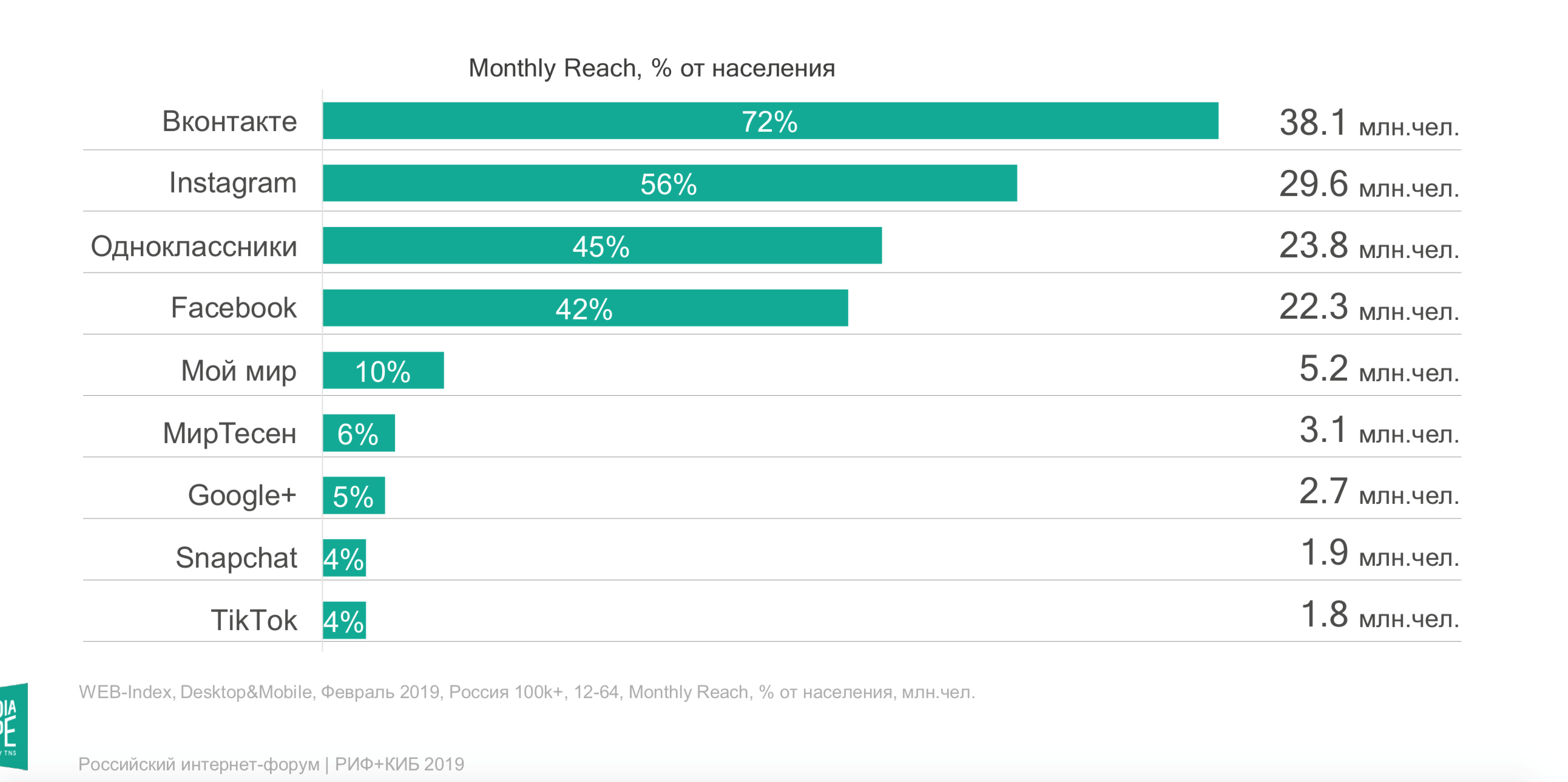 The role of social media has grown so much that TOP-COMM 2019, the Russian national association of corporate communication directors, has now included a number of social media metrics in its evaluation methodology.
Photos and videos take centre stage
So, what are the key trends for brands to be aware of? After analysing the activity of Russian users on social networks, Brand Analytics (a Russian social media monitoring platform) noted that the growing use of images on social media platforms is countered with a decrease in the quantity of 'likes' – meaning that quality of content is critical to user interaction and engagement.
A huge increase in the number of images and videos has been one of the biggest recent social media trends. Today, more than 25 million images and more than 2.4 million videos are posted on Russian social media platforms each day. Starting on Snapchat and followed by Instagram, this trend has quickly spread to other platforms such as VKontakte and Facebook.
In terms of video, the growing demand for video content is primarily being driven by a young audience (Generation Z). According to Bloomberg, Generation Z accounts for 32% (around 2.5 billion people) of the world's total population. And these users are not only watching videos; they are also commenting on and sharing content, providing creators with a significant organic reach.
This has supported the rapid growth of the social network Tik Tok, which first appeared in 2016. Over the past year, the Tik Tok audience in Russia has reached seven million active daily users. What's more, it has the highest session duration compared to other social networks – at more than 300 seconds.
Analysts also note that the most popular bloggers are now increasingly micro-and nano-influencers, as opposed to famous actors, athletes or politicians. These influencers command a significantly higher level of audience trust, which is why influencer marketing is now such a prominent PR and marketing tactic to engage audiences and drive sales.
Podcasts have also been a big hit in Russia, with interest significantly increasing. As a result, major players like Yandex and Vkontakte have launched their own platforms.
Authenticity is key
One factor that's important to highlight for b2b brands is the importance of shifting the emphasis towards sincere and authentic native content, which is increasingly helping to build social communities. In 2020, users of multiple social networks will experience information saturation more than ever before, with many brands using the same content across lots of different social platforms. People very quickly get tired of numerous 'copy-and-pastes' and repetitive content, and rapidly lose their interest in a brand's message.
Today, users are highly demanding and selective, which explains the desire to revive boring content. That's why b2b brands have to transition to organic information delivery, grow their range of visual content and shift towards native content. These should be the main priorities for regular users and marketers who are trying to find the most effective ways of introducing their products and services to the masses. Social media needs to continue to evolve to remain 'social' and relevant.
---
To find out more about our PR or marketing services or Convoy, our global PR network, drop us a line at hello@rlyl.com or visit our contact page.
Want to find out how PR and marketing campaigns work around the world? Download your free guide to international PR success now.
Download your free guide to international PR success