One thing we get asked by a lot of US and EMEA companies is how best to build their brand, product or service in different regions – and Asia Pacific (APAC) is usually high up on the target list. Whether it's the need for in-region spokespeople, translating materials or getting local media interested, there are plenty of key questions that brands need help answering.
So, we spoke to Kunalan Chakravarthy, Chief Executive of Singapore-headquartered communications agency Priority Consultants, part of our global PR network Convoy. Here, he outlines the key nuances of the APAC region, as well as shedding some light on how best to approach PR in Asia.
What are the common misconceptions around doing public relations in APAC?
One of the most common things brands tend to underestimate is how diverse the region is. Too many fall into the trap of treating all countries in the region the same, rather than considering the vast cultural differences between them and how the local markets and media operate.

Markets can vary significantly from country to country, and businesses have to understand what is required in each region. For example, Singapore has become much more sophisticated in recent years, while Vietnam has a lower level of technical appreciation.

It doesn't have to be long-winded processes, but effective planning and measurement are required to ensure businesses can narrow their focus, approach the different markets in the right way and allocate resources effectively.
What are the key challenges for businesses trying to do public relations in APAC?
As you'd expect, the biggest challenge in such a vast and complex region concerns the language barrier. For example, there are more than 20 languages spoken across India, more than ten languages spoken daily in Southeast Asia and around eight languages/accents in Greater China and North Asia – which presents obvious complications for Western businesses that don't yet have a local presence.

The saving grace is that English is still fairly popular across the Asia Pacific region, especially in India, Southeast Asia, Hong Kong, Australia and New Zealand. It's not spoken everywhere, but to a certain extent businesses can get away with English-speaking content.

Another challenge is that media and key influencers in the region are becoming increasingly inward-looking in their approach and search for content. As such, brands need to cater to that by addressing local issues and showcasing local stories, case studies and proof points. Partnerships with huge global brands are still important, but there also needs to be a local element to any PR and marketing activity.
When pitching a journalist, is it important to pitch in the local dialect?
It varies from country to country. Having a local spokesperson is of course advantageous, but English is still fairly widely spoken and certain countries in the region have varying degrees of bi-lingual competencies.

The challenge comes when talking about technical topics and issues. In Malaysia, for example, journalists tend to lack understanding of complex business processes and concepts. This means businesses have to take the time to explain things in a way they will understand. Having a local spokesperson can make a big difference.
How does PR in Asia differ from the US or Europe, in your experience?
The biggest difference compared to somewhere like the US is that the markets across Asia vary enormously. On the one hand you have Singapore and Hong Kong, which are both extremely sophisticated and have media environments comparable to London and the US in terms of their approach, challenges and structure.

On the other hand, countries like India, Indonesia and Thailand are a bit further behind, with the editorial focus still maturing. Then there's Japan, which is a market unto itself with a culture that is very structured and protocol driven. In comparison, editorial cycles in the Philippines are still very much dominated by news announcements , while in China and Vietnam, pay-for-play is extremely prevalent.

Ultimately, there are a huge number of factors to consider and businesses have to be prepared to create a specific PR plan for each country if they want to make a real impact in the region. It would therefore be advisable to work with a partner that has the language capabilities and a cultural appreciation of the local markets.
Do you need a local public relations spokesperson?
It's not a deal breaker, but it's certainly worthwhile having a local presence if possible. Ideally, in the long run a business will be able to build the profile of a local spokesperson who understands regional issues, rather than relying on someone who just flies in for a couple of days, talks to the media at a very high level, then flies out again.
If I don't already have customers in the region, can I still use public relations to build a customer pipeline?
Absolutely. We've seen in the past that activities such as building out a customer advocacy programme to train and develop local advocates to speak on your behalf can be successful in Asia, especially in countries such as India, Indonesia, Vietnam and Thailand.

In an ideal world, a brand will be able to secure respected names/organisations in the respective countries with whom to partner. These partners can then educate and promote the brand's concepts with a view to building wider advocacy and a broader knowledge base.
Where are most of the key b2b/tech media based in your region?
Most major cities in the region have their fair share of b2b tech media – Kuala Lumpur in Malaysia, Bangkok in Thailand, Shanghai and Beijing in China, Manila in the Philippines, Mumbai in India, for example. The challenge is that they are more spread out across the region compared to Europe and the US, and the differences in the region can make it difficult to target multiple markets/countries with the same strategy or message.
What type of content and social media platforms are typically used by b2b audiences in your region?
Again, this varies across the region, although it tends to be all the usual suspects. Facebook is particularly popular in Thailand and the Philippines, while Twitter and Instagram are more widely used in India and Indonesia.

Singapore, Hong Kong, India and Malaysia lead the way in terms of LinkedIn and blogs are pretty widely used across the entire APAC region.
What do CTOs/CIOs in your region typically care about?
Similar to CTOs in most regions, they're most interested in hearing about how they can do more with less. Budgets are a key concern across Asia, so they are looking to extract efficiencies from their IT investments to help them justify their spending.

Unsurprisingly, cyber-security is also a key concern. Several high-profile incidents in the region have brought this issue into sharper focus in recent years, with legislation now forcing CIOs to take the responsibility of security more seriously.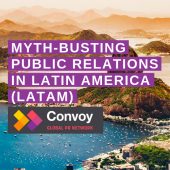 Suggested Post
Some of the most common questions we are asked by US and EMEA companies are around how to a build a brand, product or service...
Read More
What services or skills should you look for in a PR agency in your region, and why is it important to use a local PR partner?
A keen appreciation for the business side of things is critical. In the APAC region, the development of engaging content is predicated on the ability to translate fundamental business issues into compelling stories and concepts that will capture the attention of local media and influencers. Journalists now demand this approach, which makes it a key requirement for brands.

The level of technical maturity in the region is also changing rapidly. Being able to appreciate this change and adapt to it, is critical to success.
If you're interested in learning about Convoy, our global PR partner network, or our PR and marketing services, contact us at hello@rlyl.com or visit our contact page.