The news right now is seemingly all consumed by the COVID-19 pandemic with little room for anything else. But, that doesn't mean your PR strategy needs to follow suit.
In fact, if you have any doubts about why capitalizing on a crisis like Coronavirus is the biggest PR don't of all, these tweets from journalists speak for themselves.
5 Don'ts
1. Don't force a connection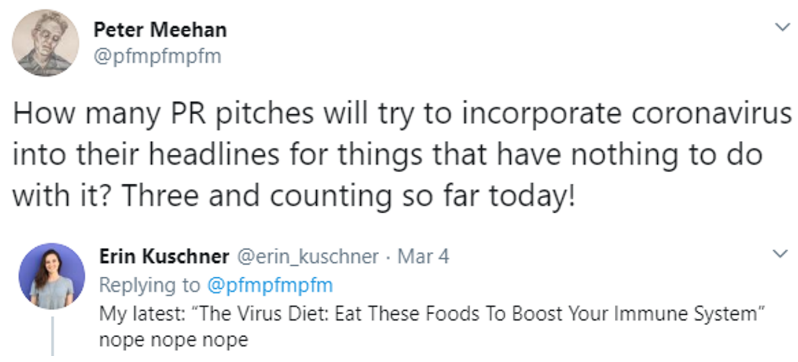 Yes, Coronavirus is a 'hot topic' right now, but if you have no direct connection to it, don't try to make one up. These tweets from Ari Levy at CNBC, Peter Meehan at the LA Times and Erin Kuschner at Boston.com sum it up.
2. Don't be opportunistic

Christina Farr at CNBC is one journalist trying to discern those companies who are being helpful versus opportunistic. But, given the number of media tweets we've seen calling out forced connections, it seems more PR pros need reminded of this 'don't' and to lay off the ambulance chasing tactics.
3. Don't claim to have the solution
This is an evolving pandemic with new updates by the hour. Pitching something that will 'save the day' is premature and may even make Cory Turner from NPR explode.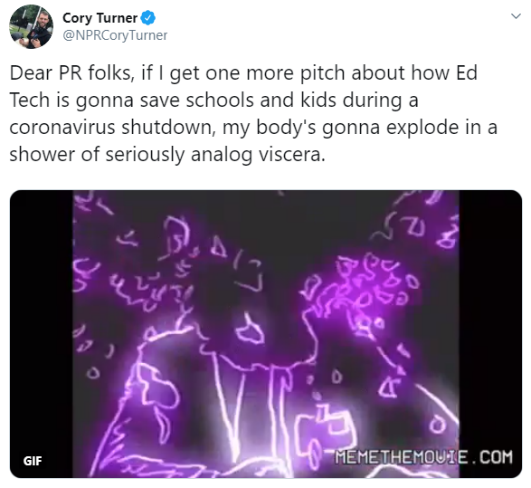 4. Don't think you're the only one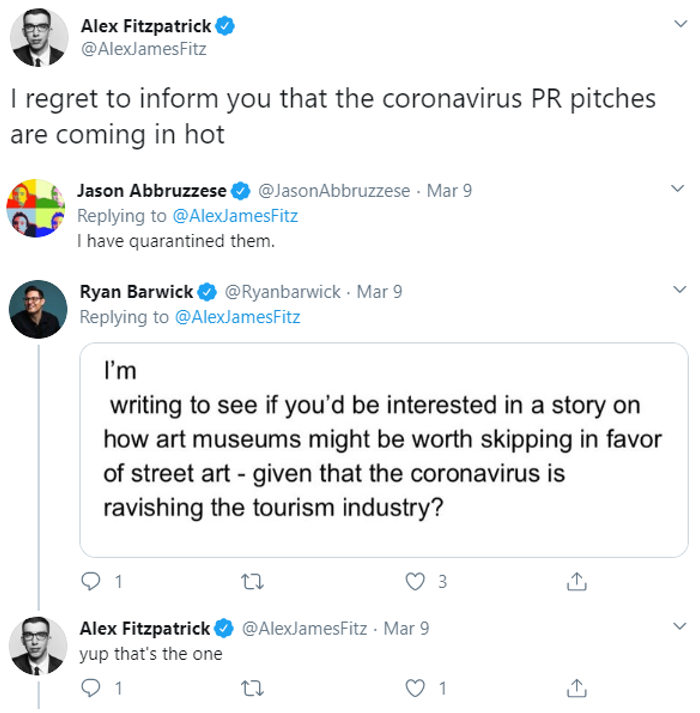 As apparently misguided as most of these PR pitches are, the volume that journalists are receiving astounding. You're likely to get lost in the shuffle or blasted for a poor pitch choice.
Check out this tweet from Alex Fitzpatrick at TIME Magazine, plus input from Jason Abbruzzese from NBC News, and even a called-out pitch from Ryan Barwick at Adweek.
And, freelance tech journalist Sean Michael Kerner and ZDnet's SJVN were even in a race to 100 pitches the other day.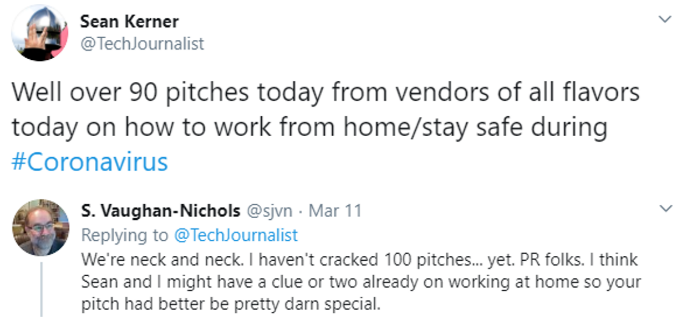 5. Don't be insensitive

Remember that there has been loss of life amid this health crisis – and never forget it. Now is not the time for product pitches that capitalize on others' devastation. Kimberly Atkins from WBUR says, "this is not the time."
---
5 Do's
Knowing all of this, it's tough to make a case for a worthy Coronavirus pitch. But, the truth is that many media are still writing about it, and seeking credible intel and sources. So, how can we PR pros walk the line?
1. Be authentic
Do you have a real connection to the current crisis? Is whatever you're pitching useful information that needs to get out there? Can you help inform people without mentioning your company or product? Is what you're promoting helpful and not revenue-generating?
If not, perhaps you're better off with a blog post or a customer email rather than a PR pitch to the media.
2. Be sensitive
Acknowledging the devastating toll this outbreak has had on lives and families is a must. Companies need to be seen as human and sensitive to the reality of the situation first and foremost before diving into any kind of PR or marketing play.
3. Be unique
If there have already been a dozen articles on the topic you're planning – like productivity tips for working from home – then stand down. Yours will surely be lost in the flood and seen too much as "us too" if it's not a unique take or new topic.
4. Give examples
To give substance to any Coronavirus service or product claims, show real-world examples of how it's already making a difference amid the current climate. While it still may be early days, this is what will help you be authentic and stand out.
5. Do your research
With so many journalists taking to Twitter to rant about poor PR pitch practices around Coronavirus, check out their profiles before you pitch them. If you see ones like that from Sara Miller of NBC News, you know to stay away!
---
To find out more about our PR and marketing services, drop us a line at hello@rlyl.com or visit our contact page.