As the UK director of a b2b tech PR agency, it's fair to say that if I'm not talking about an enterprise collaboration tool, I'm using one.
I write this as Slack heads toward an IPO; on its mission to "replace the e-mail" according to The Telegraph. I've absorbed multi-platform communication as much as the next person. Since we introduced team instant messaging into our workflow, there have been undeniable benefits: not least an uncluttered inbox. We've long since said goodbye to snail mail, but are we ready to give up the f2f meetings?
---
This is my generation, baby
The variety and volume of f2f meetings with clients and colleagues is one of the main reasons I opted to build a career in a consultancy environment. Sitting in a room with someone and building a rapport, or dealing with someone or something challenging face-to-face is the thing I love most about my job. It's something I take pride in. And (perhaps ashamedly) it's something I've spent more time trying to work on than anything else over the last 10+ years.
However, there's now an entire generation of adults who only really communicate with the outside world (and often with colleagues in the same office) electronically.
Few people actually use the phone for anything other than text-based communication – and it seems that we are all becoming more passive – hitting send and waiting for something to happen.
Now this isn't intended to have a "back in my day" tone – luckily for me I don't think I'm actually old enough to do that yet (despite what some of my more youthful colleagues may say) – but in the modern world of work where efficiency is everything, it seems that there's a lack of appreciation for human contact.
After all, why would we meet face to face when we can get things done far quicker over the phone or over a video call? And why take someone out for lunch when you can hold a meeting virtually and save on the expense?
---
The power lunch: gone but not forgotten
The proliferation of collaboration tools has taken its first casualty: The Power Lunch. Coined by Esquire Magazine in 1979, the term sprung up to describe the plethora of business deals taking place over Caesar salads in the Four Seasons in New York, which dominated the worlds of traders, movie execs and ad professionals for over four decades.
While I'm not advocating for a return to the boozy business lunch, the transition to digital meetings hasn't been clear-cut. In-person meetings are under scrutiny to be more productive than a digital transaction, meaning as soon as you cross the threshold of a meeting room, or sit down at a table, you often feel you need to cover every point necessary before even being offered a glass of water.
Sitting in a meeting while everyone has their laptop in front of them to "take notes" or physically losing half the room 30 minutes in as they have a "hard stop" is an almost daily occurrence. And that's not, I hope, because I am extraordinarily dull. It seems to be due to the fact that people have forgotten that the whole purpose of an in-person meeting is to make a human connection. In holding real-world communication up to clinical standards, we could be in danger of losing the art of conversation – as well as its business benefits.
As much as I love a PowerPoint over a Pret, I can't help but feel that meeting etiquette is in freefall – and it's time we looked closely at how to buck this trend.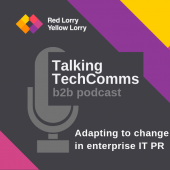 Suggested Post
The world of enterprise IT PR is a complex, ever-changing environment, with businesses today facing a host of challenges when it come...
Read More
---
"How about 1pm?" – said no French person, ever
The perception that f2f meetings are old fashioned and always a waste of time is untrue. It's the same as the myth that by introducing Slack or Flock, or another business messaging tool, email will die. Email still has a place in 2019, in the same way that f2f meetings do.
This is not a hark back to the olden days, but it should serve as a reminder to us all (me included) about what a face-to-face meeting should be. Not just that it is the right format, but that it is hosted in the right way to put everyone at ease. Here are some things to think about ahead of an in-person meeting to ensure you make the most of the time you're going to spend in the room:
Start the meeting at a considerate time where people will be at their best – i.e. not 9am Monday morning, or 4pm Friday afternoon
Try to either have everyone in the room, or to run the meeting virtually – half and half is awkward, and doesn't work
Find out how long everyone has to meet – and actually keep the session to time
Consider taking notes with a pen and paper instead of staring at a laptop the entire way through (being physically 'present' is far more important than catching every last detail)
If catching every last detail is vital (i.e. in an interview), perhaps ask to record the session and transcribe later
Spend time introducing people who don't know each other – and clarify why you're all there at the start
Explain (ahead of time) the tech limitations (i.e. no screen, no wifi, etc.) to remove wasted time at the beginning
Make sure there's water in the room (you think this is obvious, but trust me – it isn't). And (now for the blasphemy) consider that if hosting a meeting between the hours of 12noon and 2pm there should be some sort of sustenance (there is no need to force people to spend the whole meeting coughing over the sound of their rumbling stomach).
Clarify at the end of the meeting what the next steps are – something tangible is a must
If this all sounds blindingly obvious to you, then you know you're already getting it right. But if I had a pound for every time I had seen something on this list missed or not considered I would not be writing this, I'd be sitting on a beach in Barbados. So slow down, think, and really evaluate whether you're helping people get the most out of spending time with you in-person.
It's only with self-reflection and discussion with colleagues and clients that we will be able to get the true benefits of meetings. Our relationships and our work will be richer as a result.
To find out more about our PR and marketing services, drop us a line at hello@rlyl.com or visit our contact page.