Stay up to date with our newsletter
For any brand, expanding into a new region or territory can be a significant challenge. Along with the basic cost of running an international PR campaign, factors such as language, culture and market competition all have to be taken into account.
There are also several general misconceptions that we've seen crop up time and time again, especially in brands that don't have experience of rolling out campaign across different regions.
With so many things to think about, it's no wonder that businesses tend to make mistakes when expanding into new markets. Planning and executing an international PR or communications campaign is hugely complex, so we've put together a few fundamental dos and don'ts to help brands get the ball rolling.
---
Do: narrow your focus
We get a lot of brands coming to us saying they want to "do Europe" or "do Asia", but this approach is simply too broad to work effectively. The market dynamics within regions tend to be more varied than people think, so it's key that businesses start by breaking down the markets they want to focus on.
For example, when clients tell us they want to focus on Europe, our first step is always to make them pick their top three countries to focus on. This tends to be the UK, France and Germany – Sweden is also becoming more popular – generally because these economies are the strongest so are most likely to lead to sales growth.
---
Don't: take a one-size-fits-all approach
A common mistake many brands make is assuming that the only difference between different European markets is the language. They think applying the same tactics in each region will work – e.g. creating one piece of content and just translating it – where in actual fact the media landscape varies considerably across Europe.
This is where culture plays a big role. Brands tend to only think about language and don't spend enough time considering the cultural differences that exist within regions. Wider cultural differences can have a huge impact on the day-to-day, regardless of whether you can get away with marketing a campaign in English in a different region, so brands can't afford to assume that a one-size-fits-all campaign will be successful.
---
Do: sort out your spokespeople
Whether for interviews or content attributions, it's usually beneficial to have a local spokesperson in place. Of course, the importance of this can vary depending on the country – for example, in some markets you'll get away with using a regional head or someone in your HQ office – but having a local contact is a great way to build relationships with journalists.
Just be sure to bear in mind that the spokesperson shouldn't have a sales-related job title. European journalists tend to be cynical and wise to sales or marketing messages, so will generally avoid talking to people in these roles. If you're a US-based company that doesn't have access to appropriate spokespeople, it can be better to use an American representative that has a more general, technical, or c-suite job title.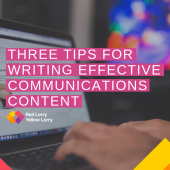 Suggested Post
As anyone in a marketing function will tell you, communications content is continuing to play a bigger and bigger role in PR...
Read More
---
Don't: cut local teams out of the planning process
Another common mistake brands tend to make is to run everything from one centralised location, thereby removing all autonomy from the teams on the ground in the respective regions. Cutting local teams out of the process means any campaign will lack the local nuances needed to make an impact.
While there can be benefits to hubbing everything from one location, failing to build engagement from local teams by asking them what they need and what they think will work best is likely to damage any international PR campaign in the long run. For example, adapting US content for the UK market isn't as simple as just changing the spelling – how you deal with the media is also very different. Ultimately, it comes down to sense checking ideas from people who know their market and can provide the local insight that others can't.
---
Of course, these aren't the only things marketing teams have to think about before expanding into new markets. They also have to consider the customers they have in each region (if they have any at all), the strength of their sales pipeline and how different communication strategies might impact their activities in different regions.
Finally, it's always worth researching what competitors are doing, as this can be invaluable in helping understand what capabilities will be needed in order to effectively service a particular market.
No matter what the region, making the decision to expand into uncharted territory can be daunting. And getting it wrong can also be extremely costly. That's why it's vital that brands make sure they are fully prepared for any market expansion and take the time to develop an international PR and marketing campaign that can be applied to their target markets.
If you need help expanding into a new region or territory, or want to find out more about our PR or marketing services, visit our Convoy Global PR Network page or drop us a line at hello@rlyl.com.

Sign up to our newsletter