Sign up to our newsletter for b2b marketing tips
Part of the beauty of marketing is the pace at which the industry changes, and at which professionals have to adapt as a result. B2b marketing in 2020 will be no different.
Technological, economic and cultural factors all contribute to the ongoing metamorphosis of the b2b landscape. Marketing professionals are tasked with anticipating change, and constructing and executing campaigns accordingly.
We know what we think b2b marketing in 2020 will look like, but we wanted to take the pulse of the wider industry. To build a complete picture, we surveyed our clients, who hail from various regions and industries across the b2b technology space.
Here are four factors that we collectively predict will be most influential in the new year:
---
Digital marketing & performance measurement will take centre stage
Many anticipate a greater focus on digital marketing and associated metrics in 2020. In fact, 75% of respondents to our client survey cited the importance of an effective digital marketing strategy to the success of marketing campaigns in the new year.
Previously, social media was considered the domain of consumer marketers, but it's becoming increasingly central to b2b campaigns. Platforms like LinkedIn and Twitter are providing businesses with an avenue through which they can communicate with decision makers at target organisations directly.
"The number of channels through which businesses can engage with an audience is greater than ever before," notes Karen Jaworski, Worldwide Marketing Lead at Aspera. "This will allow marketers to employ creative tactics and create audience experiences tailored to specific channels."
As Panavision CMO Lesley Kantor sees it, "the almost instantaneous market reactions we can gather through digital platforms and the breadth of analytics keeps us on our toes, and arms us with the ability to make better-informed business decisions."
Though social media is growing in importance, marketers are faced with justifying spend with hard data relating to lead generation. Internal stakeholders are no longer as concerned with tweet impressions, for example, but rather with metrics such as click-through rate that are a greater indicator of buyer intent.
According to Astrid Hveding Lengdell, VP Marketing at Edgeware, "to move lead qualification processes from direct sales to online channels is challenging, but will be key."

The personalised, customer-first approach will be king
In order to build trust with prospects, b2b vendors will need to operate with a maniacal focus on the needs of the customer in 2020. This means understanding customers' precise pain points, and focusing all efforts on providing a remedy.
Jason Fidler, Director of PR & Comms at Seismic, reminds us that "buyers approach all communications from a brand or vendor with a healthy dose of scepticism. Overcoming trust hurdles and establishing yourself as an authentic counsellor to the buyer will make or break marketing efforts."
This renewed focus on the customer will also spill over into the ways businesses think about pursuing leads. According to Quantum CMO Natasha Beckley, "for b2b marketers, 2020 will be about engaging decision makers with hyper-personalised experiences. We will see ABM (account-based marketing) move further toward PBM (person-based marketing)."
Despite the challenges associated with a bespoke approach to marketing, Mark Allatt, Marketing Director at Gravity Media, says we're well equipped for the task. "The range of marketing tools now available allow businesses to track not just inputs and outputs, but also the outcomes of interventions throughout the client journey," he says.

Marketing teams and budgets will be further squeezed
In 2020, marketing teams will have to juggle an increasingly diverse range of responsibilities, despite having less cash to play with.
Patrick Degenhardt, Head of Marketing at Everledger, points out that "more is asked of the CMO than ever. They're tasked with handling sales responsibility, reputation management, and leadership of highly diverse teams: from designers to data analysts to lead generation specialists, as well as specialised agencies."
Not only are the responsibilities of CMOs and marketing leads broader than ever, but they're being asked to deliver the goods on increasingly lean budgets. And, all of this is amid adverse economic and geopolitical conditions.
"Gartner's Annual CMO Spend survey for 2019-20 found that in 2019 marketing budgets fell to their lowest levels in five years, despite previously having remained relatively flat. B2b marketers need to be ready to flex if budget challenges spill over into the new year," said Quantum's Natasha Beckley.

Nuanced understanding of audience will be key
In 2020, creating a comprehensive map of the target audience will become a must for b2b vendors. This means identifying a focused list of target individuals and reaching them across multiple channels. "Gone are the days of 'spray and pray,' which has been replaced with targeted, intent-based marketing," says Arcserve CMO Rachel McClary.
Further, as the line between b2b and b2c becomes blurred, b2b marketing professionals can no longer afford to operate within a bubble. They must extend their knowledge and skill-set to encompass the b2c world as well. In other words, they'll need a strong grasp not only of their own audience, but an awareness of their audience's audience too.
McClary believes that "all true b2b marketing involves an element on b2b2c. For a b2b vendor's message to resonate with a prospect, they must often demonstrate a deep understanding of that prospect's end user."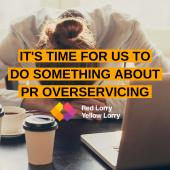 Suggested Post
PR Week tackled the thorny subject of PR overservicing last week. It follows a study of more than 400 UK PR professionals by...
Read More
There we have it, four factors that will shape b2b marketing in 2020. Next year, marketers will be faced with delivering targeted, customer-first campaigns. They'll also need to turn to justify their efforts by tracking metrics that demonstrate categorical buyer intent. All on an increasingly tight budget!
Our CEO, Guy Walsingham, had this to say: "Despite the ongoing challenges that face b2b marketers, the wealth of talent coursing through the space—both within agencies and in-house—means that businesses are well positioned to succeed. In 2020, as ever, it will be vital for businesses to partner with an agency that's capable of bringing its message to existing customers and prospects, and navigating the nuances of this ever-changing industry."
To find out more about b2b marketing in 2020 or about our PR services, drop us a line at hello@rlyl.com or visit our contact page.
Sign up to our newsletter for b2b marketing tips