In October 2021, DMS launched its Culture Week to celebrate and showcase the important role culture plays across its workplace. The team spent the week reflecting on the agency's ethos, spending time with colleagues, and hosting a series of events that rewarded staff for their contribution during such a difficult time. One of the central resources for this employer branding initiative was the culture book, which had to meet three key objectives:
Reinforce and bring to life the values, vision, culture and behaviours of DMS for staff and new hires
Position DMS as an exciting and supportive place for people to work and grow their careers
Inform and guide DMS' recruitment, staff development and talent retention strategies
Integral to this project were the original mission statement and brand values that we had previously developed for DMS. The culture book had to build on this broader brand positioning work by demonstrating how these values are implemented in DMS' day-to-day operations.
To meet these objectives, our strategy focused on providing insights into DMS' unique culture, educating new employees and reminding existing ones of the importance of the workplace experience. We also wanted to outline how employees could make the most of their time at DMS and shine a spotlight on people by including real quotes and insights from staff at various levels.
Led by our central content and design team, we delivered a full end-to-end service – from initial concepts and design execution to tone of voice and content creation. We started by researching several third-party culture books and reviewing DMS' existing employee onboarding content. We then created a design mood board with several design and layout options. These were based on DMS' brand identity, as well as taking inspiration from the film and entertainment industry in which it operates.
At the same time, we worked with DMS to establish the right structure and tone of voice – making the content as stimulating as possible to differentiate it from other onboarding materials, while staying within the agency's brand guidelines. Finally, we interviewed several employees at various levels to get their perspectives on life at DMS and how the culture has shaped their experiences.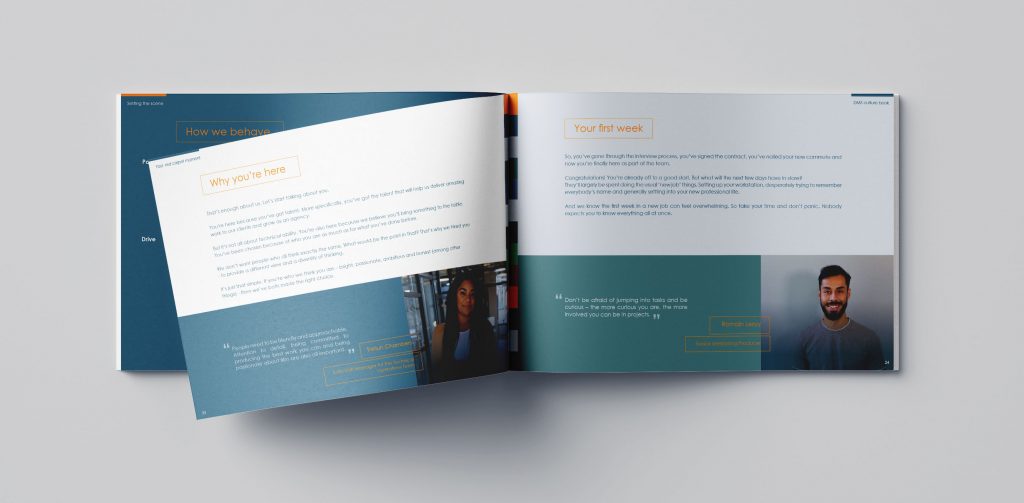 We then pulled all of these different elements together in a final print-ready file. We used a combination of headshots, workplace imagery and employee quotes to highlight DMS' people-first approach, while bespoke film posters featuring inspirational quotes reinforced its connection to the film industry. The end result was an authentic and engaging culture book that reinforces the DMS ethos and inspires new staff to succeed.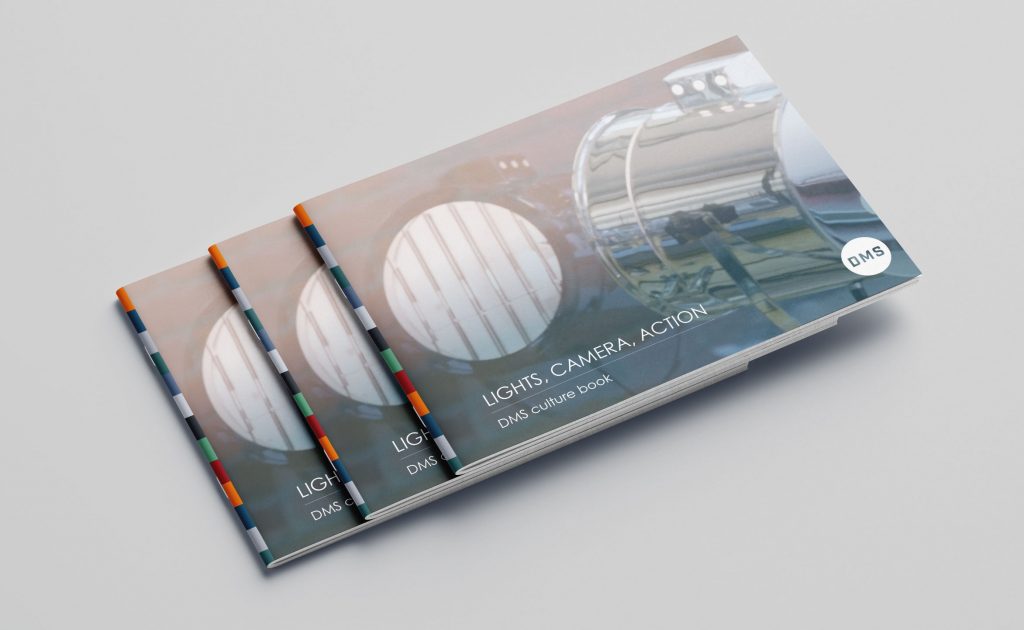 And this was just one part of our broader employer branding work with DMS. We also updated DMS' key HR templates to maintain the same look and feel as the culture book. We provided one editable master PowerPoint template and one editable master Word template, using PDF and PPT examples to visualise the creative concept. DMS now has a customisable suite of documents that it can use to ensure consistency across all internal communications.