Our social media program had two key objectives. First, to increase Beamery's LinkedIn following to further elevate the brand as an industry leader for HR/recruitment among competitors. We were tasked with growing follower count by 350-450 per month. And second, to increase Beamery's average monthly LinkedIn engagement rate to 4-5% in order to truly connect with the company's followers and audience.
We started by shifting the focus of organic social away from Twitter and Facebook, designating LinkedIn as the primary channel. We implemented a social media calendar to help establish a regular posting cadence which would keep Beamery in conversations around HR tech and prevalent in followers' feeds.
But we knew that written content alone wouldn't cut it. So, our strategy centred around the creation of dynamic visual content such as videos and GIFs, led by our integrated design team.
We knew that dynamic content would spur higher engagement from users than text-based or static image posts. For example, we focused on cutting up long-form webinar recording into digestible 30-60 second segments, designed engaging images to accompany posts, and created infographics based on written content. This strong visual focus helped Beamery stand out on social feeds while promoting high-value educational content.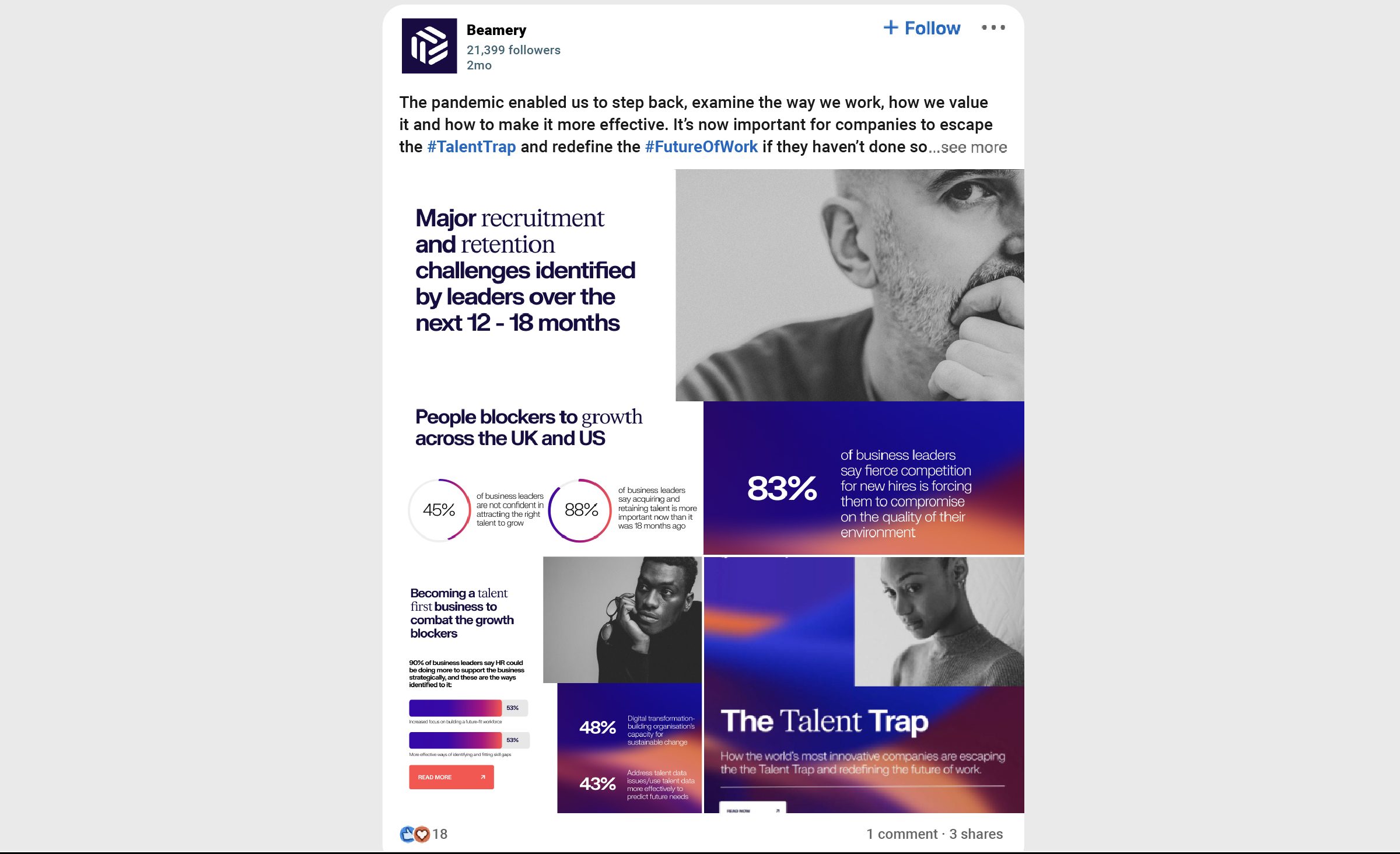 We also integrated engagement-oriented post formats such as polls and strong CTAs to encourage users to interact with posts as much as possible – whether liking, reacting, voting or commenting. This helped to maintain a strong engagement rate and ensure that the LinkedIn algorithm promoted Beamery's posts. These LinkedIn posts were also repurposed for Twitter.
Finally, we managed sponsored posts with organic a/b testing on LinkedIn and Twitter to determine the best options for additional paid spend, further helping to build Beamery's social presence.