'We need the Nordics, we need the Nordics!' Yes, we hear you. In this Q&A with Jan Fredriksson, managing director of Convoy partner Northern Link, we discuss B2B tech PR, the role of independent PR networks, the changing face of the Nordic PR industry,  B2B tech PR agency life and more.
You might say Jan exudes typical Nordic style – humble and straightforward – as he shares insights into one of the most successful Nordic PR firms.
How would you pitch Northern Link in a brief paragraph?
We're a full service communications agency for companies with Nordic interests. In total, we have 60 consultants in the region and one agency in each of the Nordic countries except Iceland. Many of our clients are based in countries other than in the Nordics, and include major global brands like Airbnb, Pinterest, Ancestry and HCL Technologies.
What are the main differences in PR between US and UK, and the Nordics? What works with the Nordics tech media? And are there differences between countries in the region?  
In the Nordics, journalists like to keep a very high level of integrity. While we get to know journalists personally over time, this has no impact on how much they write about our clients. Instead, the most important aspect of knowing journalists well is learning what his or her interests so that we always provide value to them.
We have fewer media outlets and in each country there are one or two titles that dominate each industry quite heavily. Comparing Nordic countries, there are more similarities than differences, however, there is some truth to the stereotypes: Swedes try to establish consensus; Danes are more assertive; Finns are nice and funny, and Norwegians tend to have very good self-confidence.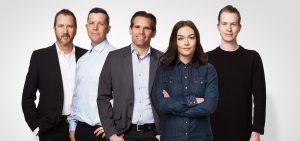 What are the most common mistakes companies make when approaching PR in the Nordics?
Product press releases, inclusion in analyst reports and award releases don't tend to result in much coverage as Nordic tech journalists often find them too inside-out focused. Instead, personal, one-on-one meetings are preferable to get real results. Also, Nordic journalists prefer to speak to local spokespeople rather than US- or UK-based CEOs – unless they're talking to huge companies. And press conferences only work when it comes to large Swedish stock-noted companies. So it's important to be as local as possible.
What are the three things you're most proud of as a PR in the Nordics?
First – and it's a long one – is the clients we've won and how this has helped our position in the market. Winning clients like Facebook, Uber, Airbnb, Pinterest and Yelp has given the opportunity to really address the convergence of B2B and B2C. You might think of B2B PR as completely different from B2C but actually the two worlds are becoming more closely integrated. The real difference is the influencers you target. With B2B, you're influencing journalists, politicians, organizations and educators. In consumer PR, they're media celebrities, bloggers, Youtubers and the like. What's important is what you're trying to convey with your content and how much that content is shared and discussed
Our second source of pride of is our own Nordic Collaboration network, where we share clients and ideas over the borders.
Last but not least, high-profile brands like Facebook and Google have recruited from us, which we view as proof of our quality when it comes to people and knowledge.
A recent article in the Holmes Report suggests that the rise of independent and midsize agency networks shows that hiring a giant global agency is no longer the foregone conclusion it once was for multi-market clients. How do you feel about that?
We think it's important to know the language as well as the culture inside out in order to do good PR. For example, many campaigns tap into our customs, the political climate and current issues. You also need to be nimble as an agency and that speaks to our advantage.
Every day we read news about PR agencies being acquired or merging. Do you see this consolidation happening in the Nordics and how does this impact the local PR industry, as well as companies looking for PR support in the Nordics?
Acquisitions are not so common with smaller companies, as there needs to be a critical mass of clients and turnover to establish a brand value that's separate from individual clients. Therefore, we see mostly mergers and acquisitions between the larger agencies. In the cases where smaller agencies are being acquired it's often due to their special niche expertise.
How do you see the Nordic PR industry changing? What are the main drivers of change and how are these changing the way we quantify success for our clients?
We're using more channels than before, and not only social media channels but also ambassadors and influencers. Increasingly, there's a paid element to PR campaigns. As an agency, we can help our clients set up paid as well as non-paid campaigns to obtain the best results. In both cases, a long-term strategy involving great storytelling is key.
Learn more about Convoy, our global network of partner agencies.