As we step into a fresh new year, marketing and communications professionals across the media tech industry are busy planning for the year ahead. While tradeshows, product launches and press releases will be top of mind for most, a more effective way to stand out from the crowd is to position your company and its spokespeople as thought leaders on a particular topic relevant to your company.
By using opinion articles and speaking opportunities to discuss a topic without pushing your products and services, you can establish your company's executives as trusted experts who are striving to help their customers rather than just trying to sell their latest products. If your spokespeople are willing to say something different or be controversial, it will help you stand out even more.
If you're struggling to decide which topic you should position your company as a thought leader on, think about the challenges your customers are facing or industry trends that are relevant to your company.
To give you some inspiration, we asked some media tech experts to gaze into their crystal balls and share their predictions on what they think will be the hottest media tech trends in 2019.
Metadata matters
Mukul Krishna leads the digital media practice at global research and consulting firm Frost & Sullivan. He challenges the old adage that "content is king" and believes that metadata will be key to giving viewers a high-quality experience.
"In 2019 it's not content but context that will be king," he says. "Metadata will be critical for companies looking at providing a high QoE to customers as it will be what business models are based on."
8K – an impending headache?
Editor of esteemed broadcast industry publication The Broadcast Bridge, Brad Dick is an industry veteran with decades of experience working in and writing about the broadcast industry. He predicts that 8K will be top of mind for the media tech industry.
"In 2019 the consumer electronics industry will be consumed by (at least) two technologies that affect broadcasters and content producers," says Brad. "Both technologies must learn baby steps before they can run, but the marketing noise will hide that reality.
"That pounding headache that broadcasters feel coming on is labelled 8K. Yes, Japan is broadcasting 8K (by satellite) for several hours a day and predicts the 2020 Olympics will be captured and broadcast in 8K. Supporting that theme, this year's Consumer Electronics Show had plenty of 8K receivers on display."
But Brad questions the viability of 8K for most broadcasters.
"Using all of a broadcaster's available bandwidth just to transmit a single 8K program stream is not a viable business solution," he says. "Most broadcasters will be quite happy to transmit HD with HDR, which better fits within current equipment capabilities and leaves space for other broadcast services."
Beware 5G
According to Brad, another technology that will be highly touted this year is 5G.
"Within the first week of 2019, AT&T announced the launch of 5Ge," he says. "Never mind that 5Ge is really just LTE. That doesn't matter because the AT&T phones already have a 5Ge logo where LTE used to appear. Consumers will be fooled.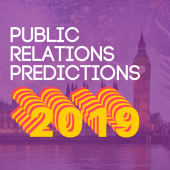 Suggested Post
Welcome to 2019! As people return to work from their holidays, we're firing on all cylinders, eager to see what this year brings...
Read More
"The mudslinging quickly began with Verizon claiming similar technology and T-Mobile calling a foul on both companies. Broadcasters need to move quickly on ATSC 3.0 to compete against this 5G delivery technology.
"To paraphrase a line from actress Betty Davis in the movie, All About Eve, Fasten your seatbelts, 2019 is going to be a bumpy ride."
AR goes mainstream
Marc Loftus, senior editor and director of web content at Post Magazine, has been reporting on new technologies and creative techniques for film, television and commercial post-production for over 25 years. He believes 2019 is the year for augmented reality and highlights some of last year's innovative applications of the technology as a sign of what's to come.
"I have no doubt that Augmented Reality will continue to become more mainstream in 2019," he says. "In 2018, I came across several experiences without even looking for them. Back on the 10th of March, on 'Mario Day' (Mar10), my car was replaced with a Mario Kart in Google Maps, showing real-time progress of my drive. It was particularly entertaining — at least for my passengers — to view on curvy exit ramps.
"The producers of consumer products are also getting into the act, using AR to engage buyers at the point of purchase or after the sale. Post reported on San Francisco studio Tactic last year, which developed the "19 Crimes" app for client Treasury Wine Estates. Users can download the app and then point their smartphone at select wine bottles to watch the labels come alive, telling various stories of the brand. I can see how this adds a certain amount of value to a purchase as well as differentiates a brand from its competitors in a crowded market. If nothing more, it's a fun and unique experience to share at a cocktail party!"
Keep an eye out for Marc's guest blog, "Outlook 2019: Film, VFX & AR", coming soon.
Hopefully these predictions from some of the media tech industry's brightest minds will inspire your marketing and communications plans for 2019 and give you food for thought for a thought leadership campaign. If you're not part of the conversation, you can bet your competitors likely will be. So dare to be bold and place your stake in the ground on the trends that matter most to your customers.
If you need help with your PR and communications plans or thought leadership campaigns in 2019, contact Kim Willsher at (+1) 310 773 3760 or kimw@rlyl.com.