It's probably not a shock to hear there's a disconnect between producers and consumers of thought leadership content, especially when it comes to the impact it has on decision-making. Surprisingly, it's B2B marketers that are more skeptical of its benefits.
That's the latest takeaway from the 2019 B2B Thought Leadership Impact Study, which found that 89% of buyers responsible for purchase decisions say thought leadership increased their awareness of brands, while 58% say thought leadership directly resulted in their decision to award business to an organization. But, producers of thought leadership content are more conservative, with 51% saying it increases brand awareness, and only 21% saying it led to new business.
So, there's clearly an appetite out there for quality thought leadership content. However, the study also revealed that decision-makers are left unsatisfied. Only 18 percent felt the content they encounter is excellent or very good. Even content producers are lukewarm when it comes to quality, with only 25 percent deeming it excellent or very good (which might explain why so few think it leads to new business). That's a problem – especially when you consider that producers are spending time developing content they think lacks both impact and quality. What's the point?
The lack of quality content has also been exacerbated by a changing media landscape where newsrooms are shrinking and contributed content opportunities are abundant. So, it's time for B2B marketers to re-evaluate their thought leadership strategies to make sure they're not just contributing to the noise, but serving as a beacon for the right decision-makers with high-quality content they crave, but aren't getting.
So, with decision-makers spending more time reading thought leadership (at least an hour per week, according to the study), how can B2B marketers ensure they use this time to knock their socks off?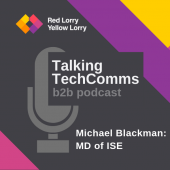 Suggested Post
Integrated Systems Europe (ISE) is one of the world's largest AV and systems integration events on the tradeshow calendar, attracting a host of...
Read More
Here are a few tips to get started:
Get out of your own way – don't talk about your product or company. Look at broader industry trends and business pain points (particularly the ones you're aiming to solve!) to elevate your message
Speak English – Not every business decision-maker is a Bill Gates-level techie. Get too far into the weeds and you'll quickly lose your reader. Instead, hook them with a high-level piece, and then hit them with a technical whitepaper once you get them to your website.
Be personable – Strike a conversational tone, and don't be afraid to show off your personality. Decision-makers tend to give more business to people they trust and get along with.
Draw from experience – Thought leaders are the faces of their organization, and their expertise is what attracts new business prospects. Turn this into engaging thought leadership content showing how these career experiences have shaped their business worldview.
That said, elevating your content has to start with a shift in thinking about the influence it has on decision-making. Let us help you develop a comprehensive thought leadership strategy for your brand and rockstar executives. Drop us a line at hello@rlyl.com to find out more!