It's an end of an era! After a year of working with us for a sandwich year as part of his PR degree, we bid farewell to London lorry, Jay Cox. Jay is a member of the M&E team and will be returning to Bournemouth University to complete his final year. Here's what he had to say about his first tradeshow, company culture and the Christmas party.
---
I didn't know what to expect when I first signed myself up to a degree with a sandwich year. I just hoped I wouldn't be spending my third year making tea and coffee. Thankfully, my year at the lorries has been amazing. I've learnt so much that I'll take with me back to uni and beyond – and had a lot of fun along the way.
Over the last 12 months I've been heavily involved in the media and entertainment team, creating a range of written content, running social media accounts and pitching countless opportunities to the press. I'd looked at these things in theory as part of my degree, but actually being able to put my skills into practice has been a real confidence booster.
When I started at the lorries, the M&E industry was a bit of a mystery to me. I spent the first couple of weeks frantically googling various buzzwords, trying to decipher all the technical jargon. I'd never contemplated what goes on behind the scenes when streaming my favourite show, or the editing process behind the films I love. But now I find myself picking them apart and saying 'our client does that'. It's probably quite annoying for anyone watching with me!
I've had so many opportunities I never thought would come my way. I found myself out and about organising interviews with Oscar winning film editors, networking at film festivals and supporting clients at multiple trade shows including IBC.
I definitely didn't think I'd be traveling abroad within weeks of starting my placement. So I leapt at the chance to fly out to IBC in Amsterdam for my first trade show, and what a show to start with – it's massive! I got lost a few times and ended up with blisters, but setting up and hosting briefings gave me invaluable media relations experience. I discovered a lot about the world of media and entertainment, and had a laugh with the rest of the lorries at the same time!
The London office has been a brilliant place to spend my placement year. The culture is fantastic. You're always encouraged to be yourself and made to feel part of the team. I started bouldering after work, completed a muddy Race for Life to raise money for Cancer Research UK and got to take part in two lorry summer socials – which are a blast. This year has also given me the opportunity to experience the London life, and on the whole I've loved the hustle and bustle of the city. But the price of a pint still brings a tear to my eye.
I can't talk about my time here without mentioning the highlight of the year – the extravaganza that is the lorry Christmas party. I don't know how it will ever be topped. Two nights away in a luxury lodge in the Cotswolds, enough food and drink to supply a small town and the chance to meet your colleagues from across the pond. I get serious FOMO when I hear talk of this year's party around the office.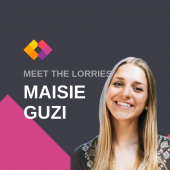 Suggested Post
Are you ready to meet another lorry? Well, you better be, because this week we're jumping across the pond to meet the newest recruit...
Read More
Now that my year has come to an end, I'm very sad to be leaving the lorries. They're a fantastic bunch and I've thoroughly enjoyed my time here. I can't believe it's been a year already! But for now, I'm heading back to Bournemouth with all I've learnt to help me through my final year, feeling very lucky to have done my placement at such a great company.
If you're interested in finding out more about grad and (under-grad) vacancies, visit our Join Us page or drop us a line at hello@rlyl.com.