Earlier this month, I attended SIGGRAPH 2015, the Los Angeles computer graphics conference, with one of our clients, Vicon, the motion capture (mocap) technology specialists. During the show, I had a chance to walk the floor – here's a bit of what I saw and did.
The VR Village was a real eye-opener. I stumbled upon a giant 3D skull that used more than 30 perfectly mapped animations and an extensive set of real-time looks to create constantly changing artwork.
The VR Village also showcased real-time virtual and augmented realities with live demos and performances. In seconds you could be somewhere you weren't – tight rope walking across two tall buildings, swimming in the ocean alongside majestic sea creatures, visiting the magnificent Grand Canyon, or if you were lucky like me, walking through an ancient pharaoh's tomb.
As a finalist in the Real-Time Live Immersive Realities (VR/AR) Contest, Vicon customer Artanim was selected to demonstrate its "Walking through a pharaoh's tomb" project. The experience showcased an immersive platform that combined Vicon motion capture systems with virtual reality headsets.
Now, I've never worn a VR headset and wasn't sure what it would be like. As someone who can sometimes get claustrophobic, I figured I'd either love it or hate it. I put on the Vicon markers, strapped on the VR headset and stood in a T-pose, waiting to be transported back in time. Once they gave the okay, I was free to walk the Vicon booth…I mean pharaoh's tomb!
It was pretty incredible. I was exploring an ancient pharaoh's tomb in all its glory. Me and another participant – my expedition partner – explored the tomb filled with hieroglyphs. We even got the chance to carry a (virtual) torch to explore our surroundings. I could pick up a treasure chest and hand it to my partner. And at one point, I turned around, leaned over, and was looking inside a coffin! Then it was someone else's turn. I took the headset off and was back to reality at the Vicon booth.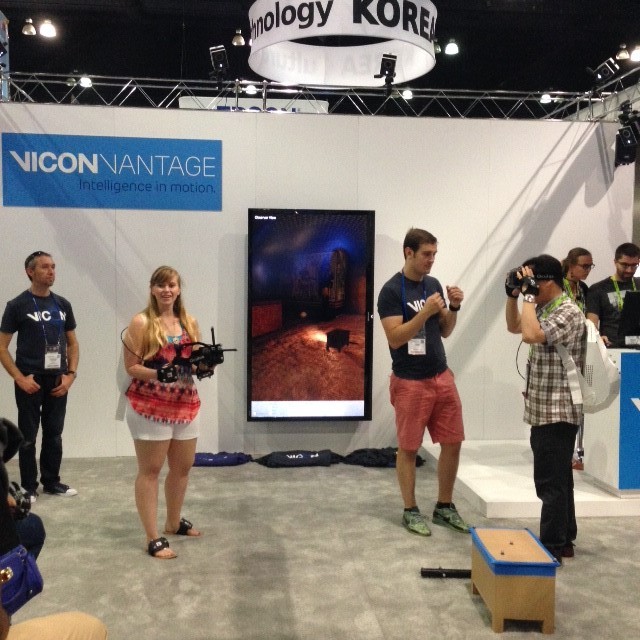 Throughout the show, I didn't see one person walk away from the demos saying they hated it. Practically everyone who tried it left with a huge grin on their face, saying something like, "That was incredible!" or "I can't believe I just did that!" Check out this video for your own look inside.
VR is a burning hot topic right now. The possibilities seem to be endless with what you could do and where you could go with it. Soon theme parks will offer VR experiences to visitors. But we may not even need to travel to go to a theme park. Definitely keep an eye out for these experiences popping up and if you get the chance to try something like this, trust me, don't pass it up!